Yates Planers For Sale
Viewing Page 1 of 1
5 Results Found
STANDARD LISTINGS LPS Equipment & Acquisition Co.

731-986-4351 Abneyco Equipment LLC

706-590-3624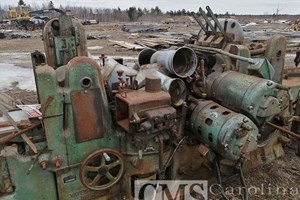 Yates A20-12 Planer Infeed Deck Tilt Hoist 575 V Includes: Misc parts, heads and attachments for S4S and T&G. This system was removed from service this Spring. It is ready to load.

Carolina Machinery Sales, Inc

704-288-1904 YATES A62/A63 Planer System; Model A62 with the A63 conversion complete with the following major components: -- 4-Sided planer-matcher, operated very little since it was purchased rebuilt. -- (10) Knife heads with 80 HP on top head, 40 HP bottom; 40 & 30 HP motors on side heads. -- Motorized top head hoist; motorized hoists for both infeed and outfeed press rolls. -- 40 HP Feed Motor with VFD Drive. -- 4-Arm WINSTON Tilt Hoist, like new. -- Transfer Deck to Planer. -- Pineapple Feed Table. -- Outfeed Belt. -- Motor Control Center. -- Dust System. -- Also includes like-new 4-Arm WINSTON Tilt Hoist, transfer deck to planer, pineapple feed table, outfeed belt, motor control center, and dust system. -- Takes lumber and timbers up to 8″ thick and 24″ wide.NOTE: Planer frame suffers from a break at the outfeed end of the machine's frame. Reduced price reflects this point. Probably an easy fix (see pix). Sold as is where is

Juergen Schumacher

800-374-5009 ext:307 Yates A20 Planer Matcher, Serial #B44250 6"x15" in good condition, belt drive, no power, including top and bottom joiners, Tapered side heads with straight knives, hoods, good belts, transmission and chrome bed plate. Front side head needs bearings. Includes Newman HD pineapple feed table, Serial # 9210, stand alone controls.

Sawmill Exchange

713-729-6455