McDonough Manufacturing Co.
715-834-7755

The most recognized provider of sawmill machinery solutions that increase the efficiencies of our customer's operations.
McDonough Band Resaw For Sale
Viewing Page 1 of 1
10 Results Found
STANDARD LISTINGS McDONOUGH 62" Horizontal Resaw - very nice late model horizontal resaw with setworks and infeed.

Ben Jones Machinery

800-241-8983 MCDONOUGH 54" Heavy Duty Vertical Band Resaw & Material Handling100 HP Saw motor; 4-roll hydraulically actuated feed works,14 tilt; 36 - 200 FPM feed speed. Specifications & Equipped with: -- Saftronics Softstart; 12" opening from saw on gauge rolls, 6" opening from saw on yielding rolls; 7" Max. blade width x 26' blade length (1 new). -- 6,400 - 10,000 FPM Blade speed (depending upon species and blade diameter and if equipped with variable frequency drive). -- 54" Dia. high tensile cast iron top wheel, 54" extra heavy solid web flywheel type cast iron lower wheel.Features: -- Top & bottom cartridge-type blade guides, hinge-type with composition blocks stabilizes the blade for cutting accurately at any speed. -- 30° Top bevel directs slivers and debris away from blade.Includes: -- 14' 4-Strand Tilt Hoist (rebuilt); -- 30' Rollcase (rebuilt); -- 8-Strand Transfer Chain (rebuilt).

Jim Reedy

800-374-5009 ext:455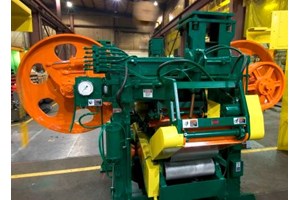 McDonough 62" A Series Horizontal Resaw. Originally built in 1977. Left Hand Resaw with 24" wide Feed Table. 10" Wide x 32'6" saws. Air Strain with a Brand New Feedworks with Knurled and Chromed Hold Down Rolls. 10" opening above the sawblade and machine (blade) shifts up to 12". Can be sold with a new Hydraulic Power Unit, New Wheel Guard, 150 HP Motor and New Servo Setworks with A-B PLC. Pictures show a new Horizontal and the existing Resaw as it is now. Yes, it's ugly as it sits now, but after an extensive McDonough rebuild she will look like brand new! Comes with a 1 year (same as new) warranty. Can be sold with Infeed and Outfeed Tables and complete Runaround too.

McDonough Manufacturing Co.

715-834-7755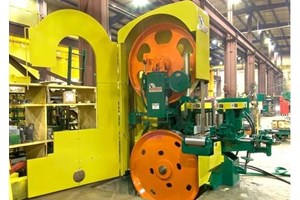 McDonough 54" Center Split Resaw. Originally manufactured in 1976. Weight Strain, Left Hand, 7" wide x 26' long band saws. Four Roll Feedworks with new Hydraulic Drive and Power Unit. Resaw will be rebuilt with new Wheel Bearings, Resurfaced Wheel Faces, new Wiring and Plumbing and Paint. New Guide Block Dressing Machine and new 75 HP Motor and Drive. Also comes with a 1 year warranty. Includes 8 saw blades. Sale Price $85,000 Resaw needs to be rebuilt to customers specifications. Images shown are of existing Resaw before being rebuilt and also of a brand new 54" Resaw.

McDonough Manufacturing Co.

715-834-7755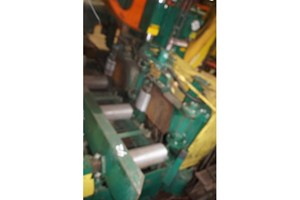 8' McDonough Line Bar Resaw w/Linear Positioning Cylinder Only. Out and Ready to Ship.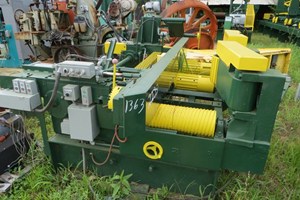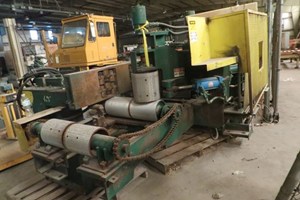 McDonough 54in Horizontal Resaw, Left Hand, 1.02 Top / .95 Bottom, Great Condition, Serial # H54-1514-MBC McDonough 62in Horizontal Resaw, Air Strain, Hydrauilc Power Pack and Cab, Serial # H62-351-MBC