Auger Conveyor For Sale
Viewing Page 1 of 1
8 Results Found
STANDARD LISTINGS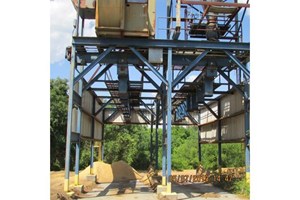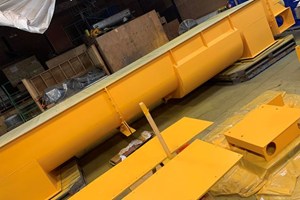 twin-screw 36" hollow screw auger conveyor, 6ft wide screw conveyor, dual 36 inch screw conveyor, double 36" x 27ft hollow screw conveyor, REPAINTED LIGHT ORANGE, Dual 36" shaftless hollow screw auger conveyor, conveyor is soon to be completely repainted - more photos to come, inside length 27 feet 6 inches, inside width 6 feet 2 inches, overall outside length of conveyor 30ft 10 inches, conveyor trough is 50 inches deep, overall outside with of conveyor trough 6ft 9 inches – overall outside width can be reduced to 8ft wide by unbolting both motors and chain guards during shipping, lube oil can be added inside chain guards so sprockets and chain can be lubed by the oil bath – site glass and plugs are attached to both chain guards, flighting spacing 24 inches, flighting thickness 1 inch, flighting width 7 inches, 2 Falk gearboxes with 25HP motors – both 25 HP motors & gearboxes have been removed from conveyor and have had the bearings replace in motors, and the Falk gearboxes have been serviced/oil changed by a independent motor repair shop and test ran with video footage by independent electric motor shop, currently both gearboxes and motor are stored inside our temperature-controlled warehouse, weight 25,000 lbs, overall outside width of conveyor with motors attached is 13ft 6inches, call for more details and a delivered price to your location, price includes loading 24 ft shaftless screw conveyor inside, 12 inch diameter hollow screw conveyor, 15 RPM gearbox reducer, conveyor is the process of a new paint job, flighting thickness 13/16 (3/4"+), flighting width 3 inch+-, flighting spacing 12 inch, 26ft 6 inches overall length, we have 2 of the 3 lids that bolt to the top of the conveyor. Additional photos to come after new paint inside and out. Contact us for a delivered price to your location. Jacketed heat transfer Screw auger conveyor, 12" x 24' auger trough conveyor unused Screw conveyor is jacketed, heat transfer auger conveyor, and has bolt on covers/lids: pipe size inlet and outlet 1 1/4"+- npt?, jacket approximate size area 1 inch wide/deep x 22ft long jacket wraps from front around the bottom to back side, drive shaft two pillow block bearings on drive end (Rexnord) and on tail end ( Link-Belt) auger rpm: ?, trough width 13", flighting spacing 12", flighting thickness1/4", auger shaft/pipe approximate diameter 2 ¾" +-, bottom discharge 12" x 13", overall outside length of conveyor 27 ½ ft, Toshiba 2HP, 1750 rpm, 230/460 volts, Dodge speed reducer ratio 25.06, stored inside, can provide demonstration video of conveyor running, contact us for a freight rate. Ross ribbon screw feeder conveyor, 16"+ wide trough, 11ft 4 inches inside length, flighting spacing 5", thickness 5/16", flighting height 5 ¾"+-, see thru lid included, bottom discharge gates ( view photos for details) Ross model # 43C-14, serial # OR101115, motor specs. 7 1/2HP, 230/460 volt, Sew Eurodrive gear reducer output RPM 30, Can provide video of feeder running., stored inside our warehouse, Call for a delivered price.