McDonough Manufacturing Co.
715-834-7755

The most recognized provider of sawmill machinery solutions that increase the efficiencies of our customer's operations.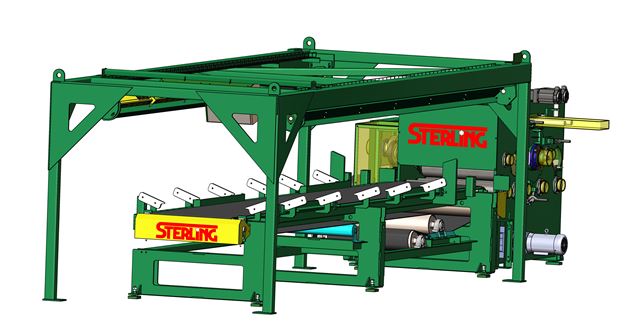 Introducing the Sterling YieldBoss Hybrid Edger System by the industry experts at McDonough 
The Sterling YieldBoss Hybrid Edger System is a revolutionary new approach to edging that combines the benefits of optimized saw placement with the simplicity of a manual edger system. An affordable system in a whole new class of edgers created by McDonough, a Sterling YieldBoss Hybrid Edger fits in the space between our line of McDonough fully optimized edgers that return the highest yields, and manual edgers that leave everything up to your operator. 
Based on years of edger product development and site testing, a Hybrid Edger will deliver performance expected to be superior to many optimized transverse edger systems, and even outperform many edgers that are billed as being optimized, but in reality, are not. 
The Sterling YieldBoss can help you meet your goals with:
Optimized saw placement on every board
Designed to fit the footprint of a hand-fed edger system common in sawmills everywhere
Designed to put the saw on the correct cutpath on every piece
An infeed system based on the designs of our industry leading McDonough OptiFit edger system, which has been developed over years of testing and improvement, with 50+ systems in operation around the industry  
The standard YieldBoss edger system includes:
Edger infeed belt
McDonough YieldBoss Hybrid Edger scanning
McDonough Hybrid Edger system controls
Two-saw McDonough YieldBoss edger 
Edger outfeed belt 
McDonough strives for efficiency through specialized machine solutions that lay a foundation for success. We focus on mutual honesty and long-term ethics, open and respectful communication, and are conscious of our customers' expectations. No matter your edger needs, McDonough has the system for you. 
For more, visit www.mcdonough-mfg.com or call (715) 834-7755.
---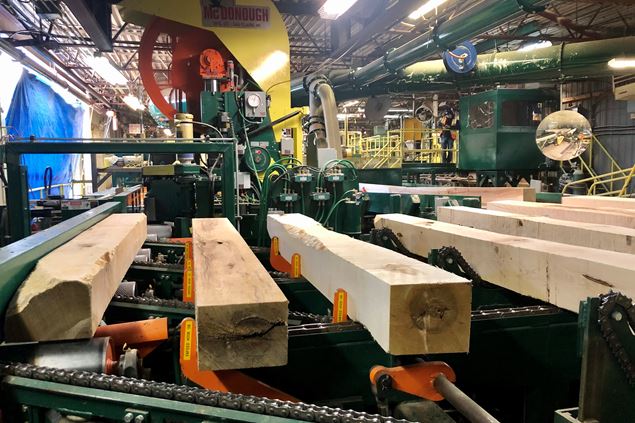 In the late 1890s, Frank McDonough invented the Travelling Bed Feed, now known as the Linebar Resaw, that revolutionized the sawmill industry. More than 120 years later, McDonough is once again re-imagining what the Resaw can be.
Available as a new installation or as an upgrade to any existing resaw, the McDonough AutoMAXX resaw system combines physical controls with a visual operator interface, high-quality digital imaging and vision optimization to maximize yield of grade and throughput. Using vision optimization to suggest the best face to the operator, the AutoMAXX AI framework will build a database of decision making processes based on operator decisions that will decrease dependency on the operator and allow the machine to run in "auto-mode" without pause, in turn improving operator decisions and reducing responsibility on the operator for productivity.
Allowing the operator to see four faces simultaneously, and identifying white spots, blond knots, low contrast color variation, etc., system overrides will be rare. As the AI framework processes and store information over time, the AutoMAXX will begin to utilize max available grade estimates to influence cutting solutions several cuts ahead.
Providing a significant increase in grade/value recovery, as well as reducing operator responsibility, error, injury and fatigue, the AutoMAXX optimizer provides estimated 'max grade', SM and value of each face with high accuracy.
---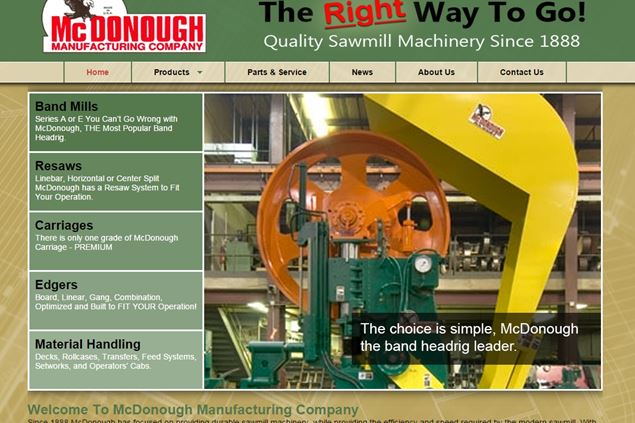 McDonough Manufacturing, of Eau Claire, Wisconsin, the world leader in sawmill solutions, is proud to unveil its redesigned interactive website. The new website, www.mcdonough-mfg.com was created by the team at LumbermenOnline.com, the sister company of LUMBERMEN'S Equipment Digest and features improved graphic interface and easy to use navigation. Since 1888 McDonough has followed a simple "good neighbor" philosophy coupled with a family atmosphere that puts the customer's need for profit and efficiency first. Visitors to the new site will find complete product information including features, product specifications and video as well as quick print product information, career opportunities and more. If your sawmill operation needs to learn more about kerf savings offered by band resaws and headrigs, how edger optimization can improve your bottom line, advanced material handling, a new carriage or a complete turn-key installation you'll find it online at www.mcdonough-mfg.com.
---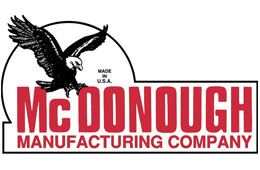 High Country Lumber in Wilkesboro, NC has ordered a lineal edger infeed table for their existing Valley Machine lineal edger. The McDonough design offers a smoother feeding to the edger increasing recovery compared to the old one. The infeed table is scheduled for a February delivery and will be installed in the mill right away. This adds High Country Lumber to the list of nine Valley Machine edgers that McDonough is currently servicing. Pike Lumber Company's new mill in Milan, IN started up the first week of January. The new mill includes a McDonough 6' headrig as well as McDonough's seventh edger system. This edger system features McDonough's ValueMax system which allows an operator assisted visual defect upgrade of the optimizer's solution and is Pike Lumber's second edger system of this kind. Rex Lumber Company's new tandem arbor lineal edger, for their new 20' Southern Yellow Pine facility in Brookhaven, MS, tested in the shop in early January and shipped to the customer. This innovative machine design features two skewing saw boxes in one machine center. Sold to perform up to 50 pieces per minutes, once operating this will be one of, if not the, fastest edger in the world. The machine is scheduled to be commissioned the first week of March. This will be McDonough's eighth edger product since they started making edgers just three years ago. D.G. Limited of Beauce, Quebec, Canada will be receiving a McDonough 54" horizontal resaw in February. Sold by Akhurst Machinery, the horizontal is a new design for McDonough as the bandmill will be installed directly behind a moulder and tilt up to 15 degrees from horizontal. McDonough has a long history of making 54" vertical resaws with tilting feed rollers which allow customers to make beveled boards to be used for house siding. But a machine installed directly behind the moulder will reduce the need to have a separate machine setup and the surrounding material handling equipment required for the operation as well as an additional operator. The machine will start up soon after it is received. For more information on McDonough Manufacturing's custom line of sawmill machinery, please call (715) 834-7755
---

---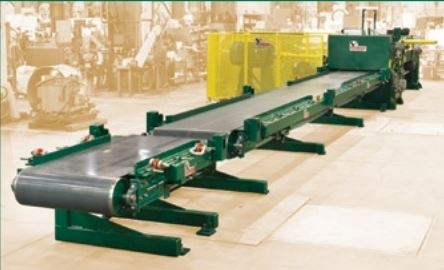 The key to linear edger performance can be taken right from the machines name, in that everything needs to run on a straight line or in a "linear" fashion. While this is arguably the simplest way to handle the optimized edging process, eliminating all of the starting/stopping, grabbing and positioning that takes place between the scanning and sawing operations of a transverse edger system, linear edger users still need to keep a close eye on their edger system in order to keep things working properly. This is of course in an effort to realize the highest possible recovery of yield and value that their edging system can provide. In particular, mills should pay very close attention to: ¦ Edger infeed belt tracking, making sure that the belt tracks perfectly parallel to the edger system centerline. ¦ There are no humps or twists in the belt path that will cause the board to "walk" or "spin" on the surface of the belt. ¦ Transition areas need to be smooth and level, in particular those: Through the scan zone Between the infeed belt and the edger feed system. Saw calibration to the transfer system. After transfer systems are aligned then saw entry points that are consistent with those planned by the optimizer are established by: ¦ Calibrating one saw (usually the center saw) to the entry points desired by the optimizer. ¦ Each of the remaining saws are then calibrated by sawing more lumber and comparing the sawn piece width to the target piece width. If you need any help with this or any other type edger system maintenance, please don't hesitate to call McDonough to schedule an appointment. If you have any maintenance tips to share or would like one answered don't hesitate to contact McDonough today at 715-834-7755.
---