Jocar Band Resaw For Sale
Viewing Page 1 of 1
2 Results Found
PREMIUM LISTINGS JOCAR 48" horizontal resaw with runaround system to include: 13' roller conveyor infeed with cant turners; 100 HP resaw to handle 18" x 18" cant complete with linear cylinder to move saw up and down, and with double wide, flat type, chain bed with hold down system; 20 HP hydraulic unit; 4' x 4' operator's cab with controls; 65' outfeed roll case with pusher fence separation system; 5' x 4 strand transfer for return cant; 40' return roller conveyor for cants; 12' infeed cant deck to infeed roller conveyor; electrical panel with AB controls (jog setworks); and legs with sub-steel.

MACHINERY INSTALLATION CO., INC. (M.I.C.I.)

336-269-2284

STANDARD LISTINGS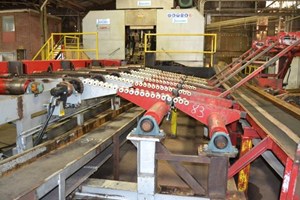 Jocar MDL 1600-23063 Horizontal Resaw System w/125HP Motor, 40' Outfeed Rollcase, Infeed Power Pack, Tipple System, Infeed Rollcase, Cant Positioner, Cant Turner, 20HP Hyd Power Pack, 50HP Power Pack System, Cleereman 5' x 6' Control Cab & Computer Setworks. Also included are all parts & extra Bands S/N 284-98

LPS Equipment & Acquisition Co.

731-986-4351