Pendu Mfg., Inc.
800-233-0471
717-354-4348

Pendu offers an extensive line of equipment for the pallet, log home and dimensional lumber industries. This equipment including the Scragg Mill, Stackers, Notchers, and Saws, can be used separately or in combination to create a variety of systems.
Pendu Mfg Gang Saw For Sale
Viewing Page 1 of 1
5 Results Found
STANDARD LISTINGS PENDU 4300 Gangsaw - double arbor gang to produce pallet material from cants. Features 100 HP arbor motors, variable speed feed, built in cant sizer with indexable carbide cutterhead, built-in blower, and 15 hp hydraulic pump unit.

Ben Jones Machinery

800-241-8983 Keith Comeau

704-929-9122 Pendu 4000 Double Arbor Gang (they were using Btm Arbor) 100HP electric Motor S/N 77018 Pendu Gang Resaw MDL M4000 DBL Arbor w/(2) 75HP Elect Motors 460V 3 Phase 85.5 A/230V Phase 171A (Each), 20HP Hyd/Blower Motor 460V 3 Phase 27 A/230V 3 Phase 54 A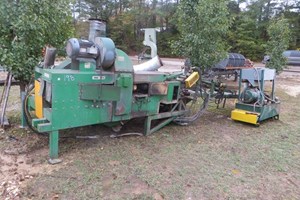 Pendu 9100 SE Gang Saw with Sizer & 30HP Hyraulic Power Unit and Infeed 75HP on Arbors