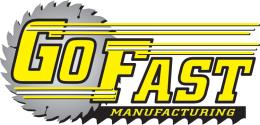 Go Fast Mfg LLC
800-854-7439
Go Fast saws are the forest industries best low profile thin kerf resaws for pallet and grade lumber, de-dusters, chop saws and custom machinery. Known for low cost, quality built machines that last and produce a profit since the 1990's. Now UNDER NEW OWNERSHIP! Our entire line of quality machines are once again available as well as parts, most of which are in-stock!
Resaw-Band
Viewing Page 1 of 1
Go Fast Mfg 6x12 Master Resaw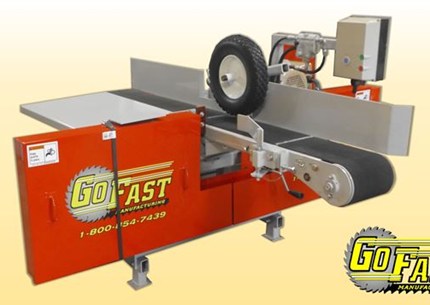 The 6 X 12 Master Resaw: If your looking for a low cost solution to cutting up to 12" wide material, look no further. These saws are equipped with 20HP motors and 10" wide conveyor belts. THE SAME MASTER RESAW WITH A BIGGER PACKAGE. NEED TO CUT WIDER? ASK US ABOUT THE GO FAST GRADE SAW.
Go Fast Mfg 6x6 Master Return Resaw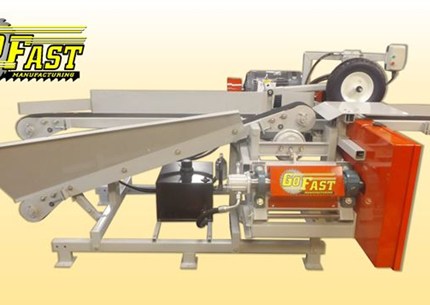 The 6 X 6 Master Return Resaw is very similar to our 6 X 8 Master Resaws. This automatic return resaw is equipped with a powered hold-down and an innovative powered belt return, which is self adjusting and offers operators the ability to fine-tune the return belt height and angle to fit your specific mix of products. When setting the sawblade to the desired board thickness, the feed belt conveyor and the return belt are all simultaneously adjusted to maintain optimum height for peak performance.
Go Fast Mfg 6 x 8 Master Resaw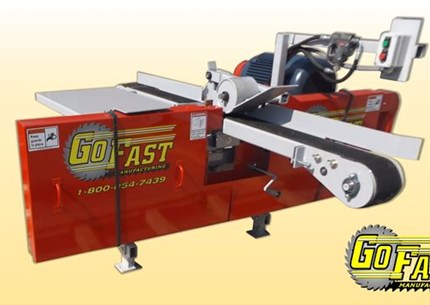 The Go Fast 6 X 8 Master Resaw is a universal and adaptable band resaw that is great for all sawing needs. The compact design and variable speed allows it to fit into any operation. The 6 X 8 Master Resaw is accurate and easy to adjust. Multiple head configurations are available up to 6 heads.