Cleereman Industries
715-674-2700

Cleereman Sales, Inc. has been building the highest quality sawmill machinery for more than 66 years. We specialize in carriages - Linear Positioning, Set Shaft & Tilt carriages. At Cleereman, we have a carriage to fit nearly every size sawmill operation.
Cleereman Industries Carriage Drive (Sawmill) For Sale
Viewing Page 1 of 1
2 Results Found
STANDARD LISTINGS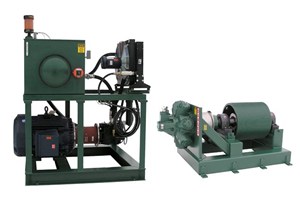 This carriage drive is AVAILABLE NOW! Customer's order changed, making this new equipment available with NO WAITING! Model 150 Hydrostatic Carriage Drive • 20000 lb. max carriage weight • Cable speed – 700 feet per minute • Hydrostatic pump with hydraulic braking • Oil capacity – 120 gallons • Drum size – 26" or 30" diameter 5" diameter shaft • Drive is complete except for oil and wire rope • Electric motor – 150 TEFC at 1800 RPM • Electric joystick controller with easy to program control board IMAGE PROVIDED IS A STOCK IMAGE AND NOT THE SPECIFIC MACHINE OFFERED.
Cleereman Industries

715-674-2700 LPS Equipment & Acquisition Co.

731-986-4351