Cleereman Industries
715-674-2700

Cleereman Sales, Inc. has been building the highest quality sawmill machinery for more than 66 years. We specialize in carriages - Linear Positioning, Set Shaft & Tilt carriages. At Cleereman, we have a carriage to fit nearly every size sawmill operation.
Cleereman Industries Carriage (Sawmill) For Sale
Viewing Page 1 of 1
7 Results Found
PREMIUM LISTINGS Lot 55: Cleereman Carriage, 36", 3 HB, Right hand, completely rebuilt less then 1 year before shutdown!! Air setworks, new track, new wheels, new hyd. Drive and pump, cab, 125 HP electric motor, THIS IS A MUST SEE!!

Bright Star Realty & Auction Company

260-250-4823

STANDARD LISTINGS CLEEREMAN 42" linear positioning hydraulic carriage. 42" opening, 4 headblock, 8" tubular frame, 14" wheels, 20 HP hydraulic power unit, complete with track and SILVATECH setworks. $ 75,000 OBO. FOB MILL SITE.

MACHINERY INSTALLATION CO., INC. (M.I.C.I.)

336-269-2284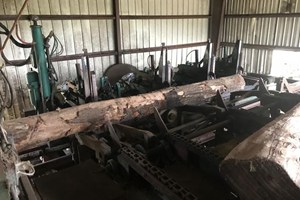 Debarker Cleerman Carriage Cleerman Sawmill and Cab Frick Timber Tiger Gang Edger Trim Saw This mill has been shut down for approx 5-years. It will need to be removed from the current location.

Carolina Machinery Sales, Inc

704-288-1904 Cleereman 3 Head Block carriage only, Left Hand set with setworks, air and electric. no blade. 48" opening. Good shape.

Sawmill Exchange

713-729-6455 36" - 4 headblock carriage,17' long, electric/air setworks, this carriage is in very good condition 4 headblock carriage, right hand, 110 volt over air set works, husk, includes 45' track-frame-drive-cab and all controls, all is in excellent condition 3 head block air set carriage with Brownsville turners, controls, 50 ft track and subframe reconditioned. Call 330.231.2634 for more info.