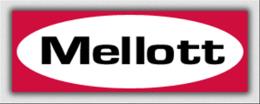 Mellott Manufacturing Co., Inc.
717-369-3125
Mellott Manufacturing Co., Inc. produces rugged and reliable log and lumber handling equipment. Our products are manufactured in Mercersburg, Pennsylvania, USA. Mellott Manufacturing Co., Inc. has the capability to design and/or fabricate a wide variety of special conveyors and machines for the sawmill, pallet and woodworking industry. If you have a custom design in mind, Mellott is the right choice.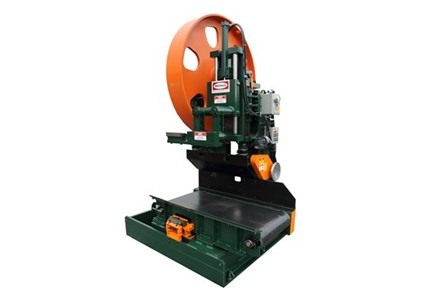 Increase production with Mellott Bandsaw, infeed deck, drop belt, retracting pins and rollcase / transfer systems. Mellott Manufacturing will help you find the best solution for you.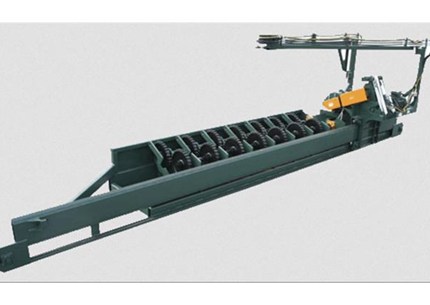 The LMR 48" Debarker is a hydraulic/electric machine designed to be the toughest and most reliable 48" rosserhead debarker on the market.
Mellott MDS-12/16 Drop Saw Trimmer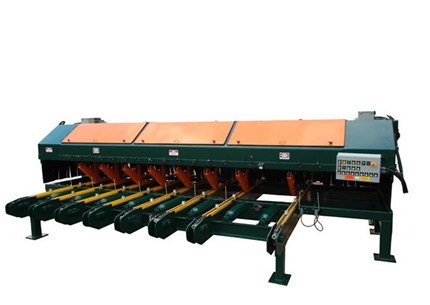 Mellott Model MDS-12/16 Drop Saw Trimmer •2 7/16" Diameter shaft driven trimmer can be powered by dual hydraulic or electric motors. •28" diameter saws will trim up to 8" high cants and will pass 12" high cants. •Parallel arm hold downs with shocks •Easy access to saw ladders with hinged front covers with nitrogen gas assist springs, hinged top covers and hinged rear doors •Enclosed chain return for a smooth interior, prevents hang up of trimmed pieces falling through to a waste conveyor •Easy belt replacement, poly-tire type couplings to connect the shafts. Simply remove the tire to slip the belts through gap between the coupling hubs. •Dual assist springs used on the saw ladders to raise the saws quickly. Stop collars on springs to limit the down stroke in case of a cylinder failure. Prevents the saws from contacting metal. •Quick belt change, loosen 3 bolts, rotate clamp handle to release tension on the belts. Belt take up is guided and piloted flange bearings are used so saw alignment is not lost when replacing belts. •Stacked cylinders are used for 3 saw positions, trimming partially raised to pass thru ties and large cants. •Heavy and robust construction, Trimmer as shown weighs 23,000 lbs.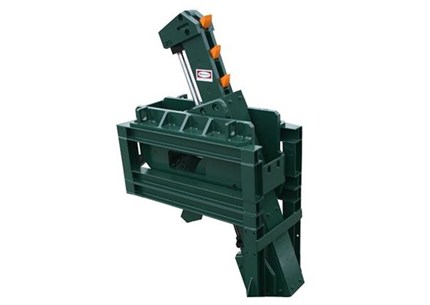 The Mellott heavy duty log turners are designed to handle logs quickly and with ease. All our turners are ruggedly built to stand up to your most demanding applications. Visit our website for features, specifications and dimensions for Mellott log turners.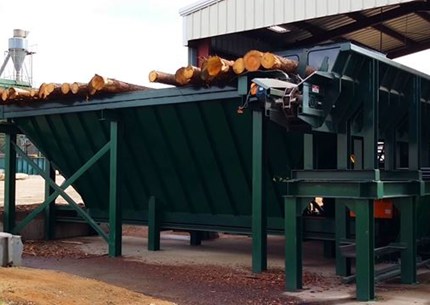 The Mellott live decks are designed to convey logs in a variety of situations in sawmill operations. We offer custom lengths and spacings to fit your application.
Mellott Tilt Hoist Systems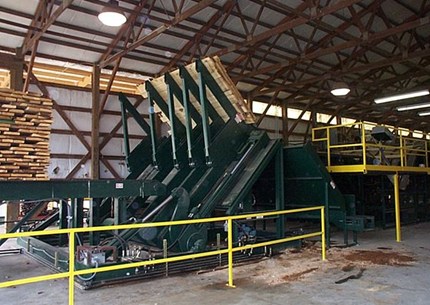 Visit our website for features, specifications and dimensions for Mellott Tilt Hoists and grading systems.
Mellott NEW HEAVY DUTY DROP BELT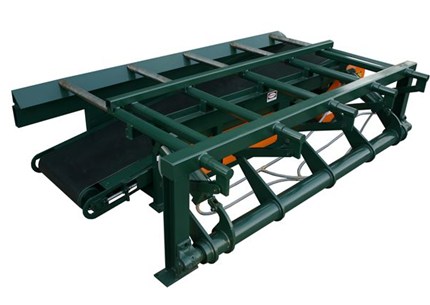 The New Mellott Heavy Duty Drop Belt with Retracting Pins design was introduced in 2006. Improvements were made to critical wear areas to extend the overall life of our drop belts. Our goal, as it has been for over the 50 years we have been in business, is to provide quality and dependable equipment. Please visit our website for detailed specifications or feel free to get in touch with us. Contact: Carl Park 717-369-3125
Mellott Mat Drilling Machine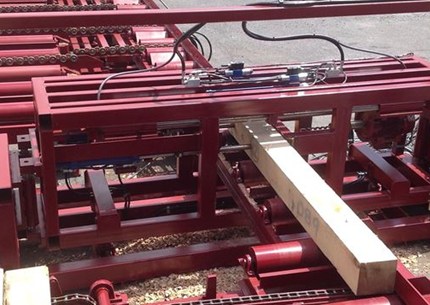 MELLOTT MAT DRILLING MACHINE is an automated system for drilling crane / timber mats.
Mellott Log Conveying System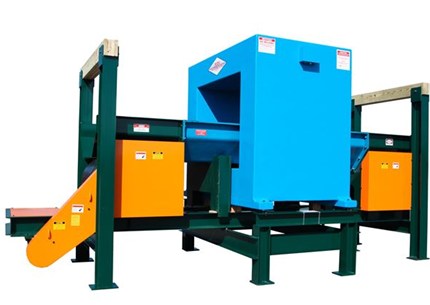 The Mellott WD120 Log Trough along with LMR 48 Debarker, Heavy Duty Log Deck, and Metal Detector Belt Conveyor are designed to be the toughest and most reliable log handling system on the market. We have an onsite engineering and design team capable of meeting your specific needs. We will consult and coordinate with you to provide the best options for your application.