Mellott Manufacturing Co., Inc.
717-369-3125

Mellott Manufacturing Co., Inc. produces rugged and reliable log and lumber handling equipment. Our products are manufactured in Mercersburg, Pennsylvania, USA. Mellott Manufacturing Co., Inc. has the capability to design and/or fabricate a wide variety of special conveyors and machines for the sawmill, pallet and woodworking industry. If you have a custom design in mind, Mellott is the right choice.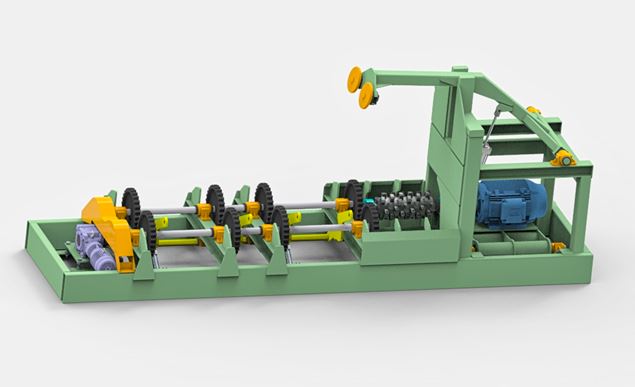 April 8, 2021 – Mellott Manufacturing has a long history of unique and innovative designs that address the challenges of the modern sawmill.  The Model 70E Log Flare Butt Reducer is the latest such design.  As more mid to large hardwood sawmills move to Ring Style Debarkers the issue of butt flare is magnified.  

To address this challenge Mellott designed the standard Model 70E for logs from 8 to 17 feet in length and up to a max flare of 60", the heavy-duty 14"x28" cutterhead, driven by a direct coupled 100HP motor with your choice of hydraulic or pneumatic overhead hold down wheels. The prototype is being constructed as a remote-controlled stand-alone unit operated remotely by the operator of the log loader, but the system is very flexible and can be installed in new or existing production lines eliminating the space, cost and personnel of running a Rosserhead debarker as a butt reducer.

 Like all of the Mellott line of material handling equipment, the Model 70E Log Flare Butt Reducer can be custom designed to fit your unique requirements.  To schedule a review call 717-369-3125.
---