Portable Sawmills For Sale
Viewing Page 1 of 1
6 Results Found
STANDARD LISTINGS New Cab, heated & air conditioned; log turner, tapers, hammering bench, stretch roller, excellent condition. Sharpener available (#420) Reduced to $50,000 - Call Jeff at 574-370-5050 for details

Jeff Miller Inc.

574-370-5050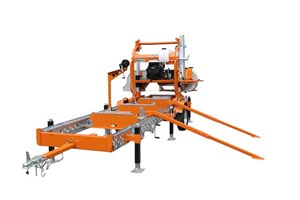 Get the same big-log capacity as mega-sized industrial sawmills, but at just a fraction of the price, with the LumberPro HD36 portable sawmill – Mill hardwood and softwood logs up to 36" (90cm) in diameter, slice boards up to 28" (70cm) wide and process wood of any length. Fully customizable, you can start with the manual HD36 and upgrade to hydraulic, or add other available attachments, as your sawmilling needs grow. Available in 16HP ($7,967) and 23HP ($8,367). For more information, visit www.norwoodsawmills.com or call 1-800-567-0404 toll-free. Prices effective April 2020, and are subject to change.

Norwood Industries Inc.

705-689-2800 2016 Wood-Mizer WM1000MEC50 Industrial Sawmill, E50 Electric Motor, 50 Hours, Serial Number: wm1000mec50/001/2016/a, 33 feet of track, Includes Generator, $64,900

Wood-Mizer Products, Inc.

800-553-0182 30 HP 460 Volt 3-Phase, VIN 456D72417ENFB6985 - Also Available with this sawmill: Log Deck 20ft - $7400.00, EG200 Edger 15HP Electric - $8900.00

Wood-Mizer Products, Inc.

800-553-0182 Wood-Mizer Products, Inc.

800-553-0182 2003 Wood-Mizer LT70, 62HP Caterpillar Diesel, Serial Number: 456D724103NJA2098, Rebuilt engine, $29,000

Wood-Mizer Products, Inc.

800-553-0182