Misc For Sale
Viewing Page 1 of 1
7 Results Found
STANDARD LISTINGS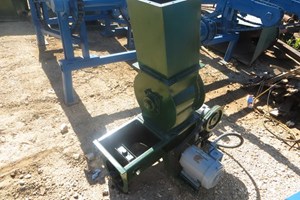 LPS Equipment & Acquisition Co.

731-986-4351 XTERRA Model XTFSK-3020 Jaw Crusher 750mm (29in) x 500mm (19in) opening Closed side settings range 50mm(1.9in) @42 TPH to 150mm(5.9in) @138 TPH, see Crusher chart for sieve percentages 45KW (60HP) electric motor Belt driven

Carolina Used Machinery

828-773-2204 These systems provide our customers with the ability to burn green wood waste instead of using their finished product. Complete system design and installation of every system is available. Contact CMS today for more information! - Burn ANY wood based fuel from 5-55% moisture. - Chips can be up to 3" - No need for hammermills. - Grate design and chaber size limitsspraking. - No blue haze - Only trace emissions. Burner sizes range from 10-60 million BTU per hour. Heat values are OUTPUT, not input.

Carolina Machinery Sales, Inc

704-288-1904 HF 800 2-SPEED LOG SPLITTER 1650LBS 32" X 16" CONE SIZE MAX SPLIT SIZE UNLIMITED 30-60 GPM FLOW REQUIRED 3200 - 5000 PSI REQUIRED 7000 - 70,000 LB CARRIER REQUIRED SKID STEER, WHEEL LOADER, EXCAVATOR MOUNT POSSIBLE STANDARD 6 MONTH WARRANTY

Columbus Equipment Company

937-424-7678 HF 300 LOG SPLITTER 750LBS 26 X 12 CONE SIZE 12' LENGTH MAX SPLIT SIZE 15-32 GPM FLOW REQUIRED 2400 - 3400 PSI REQUIRED 6000 - 20,000 LB CARRIER REQUIRED STANDARD 6 MONTH WARRANTY

Columbus Equipment Company

937-424-7678 Designed to fit an 18" bind. Unloader has a 4" opening. Unit # 414118. Model: 4044. Can be used for sawdust and grain. A slide gad would be added for grain. The opening is 19". Unit is removed and under cover. Ready to load. Call 570.523.0311 to make offer and for more info.

Showcase Equipment

260-250-4645 Forestry Resource LLC

740-541-4405