Dixie Air Dust Collection System For Sale
Viewing Page 1 of 1
2 Results Found
STANDARD LISTINGS DIXIE AIR SPB Pulse Jet Dust Collector. -- 16,100 CFM @ 9.5:1 air-to-cloth ratio, round baghouse with (108) cloth filter bags of 12' length resulting in a total approx. 1,695 sq ft of filter media area. -- Ground mounted main Blower with 50 HP motor connected in a negative pressure configuration. -- Automatic reverse pulse cleaning system with differential pressure gauge, positive displacement air pump for pulse clean. -- Galvanized steel bag frames with positive bag bolt down to eliminate leakage and ride-up of bags once installed. -- Walk-In Clean Air Service Plenum. Tangential dirty air inlet. -- Electrical control panel. -- Single cone hopper outlet with rotary airlock discharge. -- Horizontal shared transfer auger (about 54' long). -- Steel support structure with access ladder and service platform.Professional disassembly, loading on truck and/or transportation available upon request.NOTE: Unit being sold under this record is pictured on the right side on the first two photos. For the larger diameter unit on the left side (PNEUMAFIL) see record "DO-011265".

Tony Cornacchione

800-374-5009 ext:432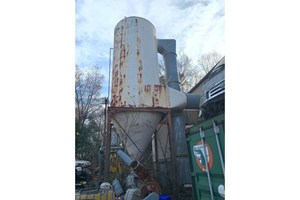 (240) 4" x 12' Bags 100 HP Main Motor Bags are cleaned by compressed air approx every minute System is approx 1998 Approx 35000-38000 CFM This system was running daily before hte facility shut down 4-years ago. Buyer will need to provide rigging.

Carolina Machinery Sales, Inc

704-288-1904