Boiler For Sale
Viewing Page 1 of 1
11 Results Found
STANDARD LISTINGS BARKER Boiler and Fuel System built & tested in 2011 as a pilot unit. Successful testing has been completed. This surplus equipment includes the following main features: -- Combustion Temp Capability- 2,000 deg.F.; Steam Flow 24,000 lbs/hr saturated; Steam Pressure 1,500 PSI @ 600 deg. F. -- Fuel Feed rate - 3,000 Lbs/hr at 1/4" biomass (5% moisture) -- Heat Input - 7,500 btu/Lbs HHV @ 22 mmbtu/hr. -- All equipment has less than 2,500 actual operating hours since installation.EQUIPMENT MAJOR COMPONENTS: Combustor, Cyclonic combustion technology, Refractory lined Heat Recovery. Steam Generator. Rotary Drum Dryer for Fuel drying - capable of 30% moisture reduction (at the above combustion parameters) and 1.5 tons per hour (installed as used equipment).BALANCE OF PLANT FUEL FEED SYSTEM: Live-bottom bin, Bunker, Feed conveyors, Wood hog, Vibrating screen, Drag and screw conveyors. Boiler water system - feed pump,water and steam piping Emissions Control: All required baghouses (SJVUAPCD) California permitted. -- Now REDUCED PRICE from $1.5 million !! BUDZAR INDUSTRIES, INC. Thermal Oil Boiler with the following features: -- Electrically heated with a Full Load of 160 Amps. -- Max. working pressure: 50 PSI. -- Temperature range: 50° F to 450° F -- Designed flow rate: Zone 1, 120 GPM @ 75' TDH. -- Previously used to heat a 14-opening plywood hot press. -- Save a bundle on this one - pay in Canadian dollars!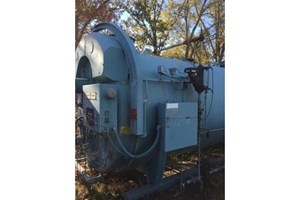 CB Package Boiler Natural Gas, CBI 700-300-15, Max Pressure 15st PSI, Input 12.600.000 BTU/HR Serial# OL 094585, 460 3Phase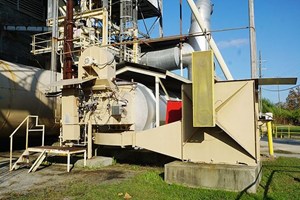 LPS Equipment & Acquisition Co.

731-986-4351 Plant Boiler System for up to 60,000 pounds of steam production per hour (1790 HP) with the following features and main components: -- (2) ENGLISH BOILER AND TUBE, INC. Boilers each rated for 20,700 pounds of steam per hour each. However, manufacturer specified they can be operated at 30,000 pounds per hour with dry wood or bark fuel (12 percent moisture). -- 250 PSI operating pressure ratings on each Boiler. -- VFD Drives on all main Motors. (The plant uses a maximum 75 HP for each boiler.) -- Electrical Controls. -- (1) Boiler has an Oil Burner for operating optionally on oil if sawdust or wood chips is not available. -- Chemical Water Conditioning System and Pumping System. -- De-aerator and Condensate Tank. -- Multi-clones for particle emissions reduction and abatement. -- (2) Fuel Storage Silos (25'x40' & 20'x38') with LAIDIG Model 243 Track-Driven Unloaders. -- Fuel Transfer Conveyors. -- The Silos also are included at the price shown and are available individually. See our listings DB-010162 and DB-010163 for details and individual pricing. -- Boilers can be purchased individually or as a pair. -- Professional removal and installation services are available. Laars Gas Fired Boiler 2.009M BTU Output, 189 Sq Ft. Heating Area, Model HH2450IN18KCACJX --Main unit pictured; tanks and other accessories included in the sale --Max W.P water 160 PSI --240 degrees max temp --189 sq ft heating surface --Natural gas --2,450,000 BTU/HR input --2,009,000 BTU/HR output --Maximum gas orifice size 19 DMS --Minimum input rate 735,000 BTU/HR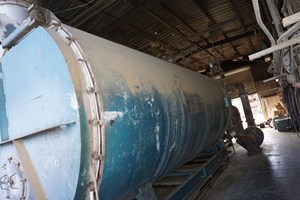 700 HP/150 PSI Superior Wood Fired Boiler (Rebuilt in 2018) Also included: All Boiler Controls in Room Waste Wood Firebox, 150HP Superior Boiler with Controls, Water & Condeser Tanks, Ash Remover & Disconnect THERMAL FLUID SYSTEMS "KH 0.315/50" Hot Water Boiler, 1.26 Million BTU/Hour Output.Specifications & Description: -- Natural Gas 572° F max. temp.; 60 GPM rated flow, 57 GPM min. flow; Gas supply pressure of 5 - 7 PSI. -- MAXON Burner "400 OvenPack II". -- HONEYWELL "UDC 3000 VERSA PRO" Universal Digital Controller. -- HONEYWELL "MODUTROL IV" Motors (#M7248). -- HONEYWELL Solid-state Spark Generator, high/low gas pressure switches, and flame detection.Equipped & Supplied with: -- (2) Safety shut-off valves; 150 Lbs max. pressure; 150 gallon volume (system volume approx. 210 gallons). -- Blower with 0.75 HP motor. -- Expansion Tank - WENDLAND MFG: National board #1633; 50 PSI @ 650° F.Dimensions & Weight: -- Tank dimensions are 60" L x 18" dia.; overall dimensions of tank including stand are 80" L x 44" W x 84" H; -- Control Panel dimensions are 48" x 18" x 80"; -- Heater dims. (drip pan) are 96" x 132" x 84". - Weighs approx. 12,000 Lbs. -- Manuals and prints included. VYNCKE HD 10 1250 Wood Biomas Steam BoilerSpecifications: -- Capacity 150 HP, 5,000,000 BTU -- Wood-fired, Steam boiler. Max. output 150 Boiler HP, heating surface 602.78 sq/ft, MAWT 230° F, MAWP 100 PSI; fuel is sawdust & wood waste.Boiler has a 23.6 cbm/Hr capacity.System includes the following: -- (1) Blower (1) Expansion tank system -- (1) Ash silo w/blower. -- (1) Stainless Steel Stack. -- (1) EKV incline infeed loading conveyor approx. 22' x 32". -- (1) Auger feed for shavings from a silo (silo not included). Piping, Relief Valve -- Boiler was used to feed 3 Dry kiln of 75,000 BF eachCertifications: -- System have been inspected internal and external by local authority on NY State twice a year, last inspection was November 2018Note: Specification must be confirmed prior to purchaseTear down and loading not included in price 2013 Williams & Davis Size 100 Boiler Model 777 S/N 8706 With Water Tank, Pumps, Gas Fired. 100HP - 150PSI