Staying Ahead of Markets, Fly Tie and Lumber Complete Complex Mill Expansion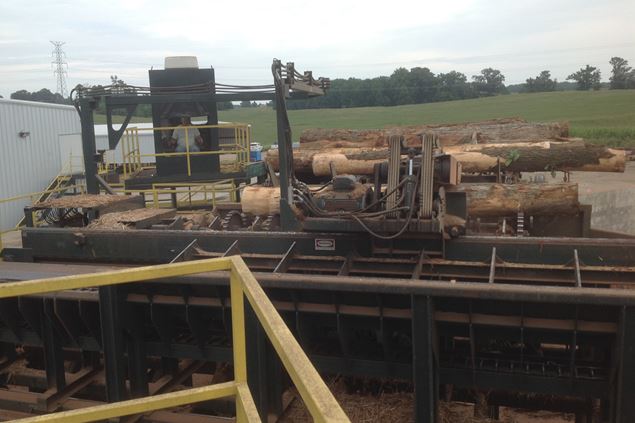 Moving with the markets is something we've always tried to do. So when local markets in Mississippi tightened up back around 2000, we got in the mulch business, then added a hardwood circle mill in Oakland and a scragg mill Winona. After eight years running three operations, in three locations we decided that the time had come to merge into one location, update and modernize our milling operations.

Once we made the decision to build a state of the art hardwood sawmill to replace the multiple smaller mills we were running, the search began. And it was a long one. I traveled for a year and a half across the eastern United States and Canada visiting sawmills. The goal from the beginning was to build a mill that would efficiently produce a wide variety of materials so Fly Timber could move with the markets. The mix included cross ties, long timbers, crane mat material as well as hardwood grade lumber. This flexibility would insure that we could always produce what the hardwood lumber market sought and operate with an eye toward maximum return per log. Getting' the squeal out of the pig as the old-timers called it.

We found out early in the planning phase that to meet this goal, we would have to deal with multiple machinery manufacturers and find a way to smoothly connect everything from the debarker to the main production machines like the Cleereman carriages, McDonough band headrigs and optimized edger, gang and trimmer. All the way out the back of the mill, not to mention the challenge of processing and flowing cross ties to rail cars.

During my many mill visits, whenever the discussion turned toward log or lumber conveyors, Rosserhead debarkers, log turners, lumber stackers and material handling equipment, Mellott was the name that kept coming up. From a very rugged built Rosserhead debarker, stand-alone decks and complete systems – nearly everywhere I went there was Mellott. That convinced me, I needed to see for myself, so I visited their plant in Pennsylvania and that sold me. Dale and Stacy Mellott and the entire staff at Mellott Manufacturing are fine people to do business with. They did an excellent job of working on this very complex job, dealing with multiple suppliers, engineers and deadlines. Each time we asked for something to be beefed up to meet our spec's or to make something longer to expand our product line, the staff at Mellott stepped up to the challenge. That's why the first thing a log sees when it arrives is a customized Mellott LMR 48" Heavy Duty Debarker, Mellott Log Haul trough, Mellott log decks, slab conveyors and the last thing is the custom built tie lifting system and lumber decks and rollcases.

Fact is looking back on the project, I can't see how we could have done it as well without Mellott. They truly became a partner in our new mill and in the future of Fly Timber.

Ricky Fly
Fly Timber
Grenada, MS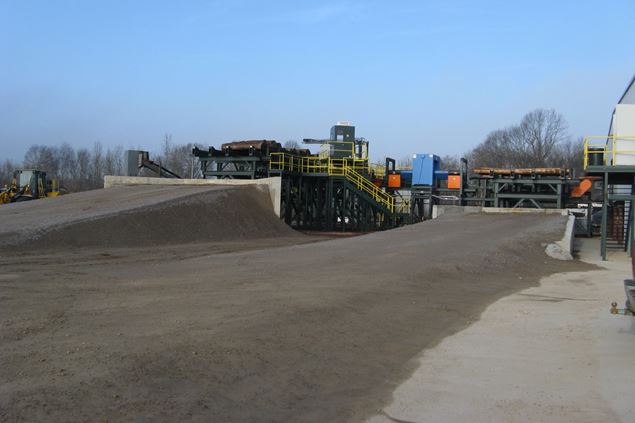 Custom Designed Support Structure insures a solid foundation for the Mellott Debarker and Log Haul Trough.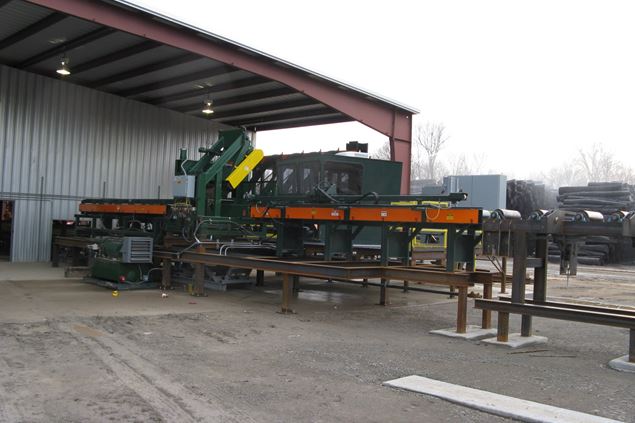 Thousands of railroad ties flow smoothly through the system with Mellott In/Outfeed and Climate Controlled Cab for the cut up line.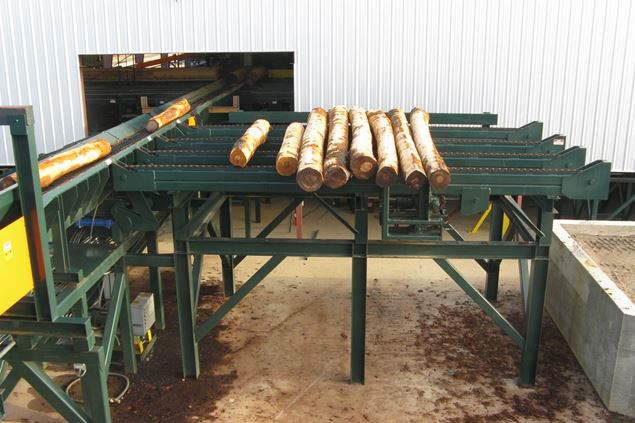 The Mellott Put & Take Deck is another unique solution to control the ebb and flow of high production, insuring properly debarked logs are available at all times.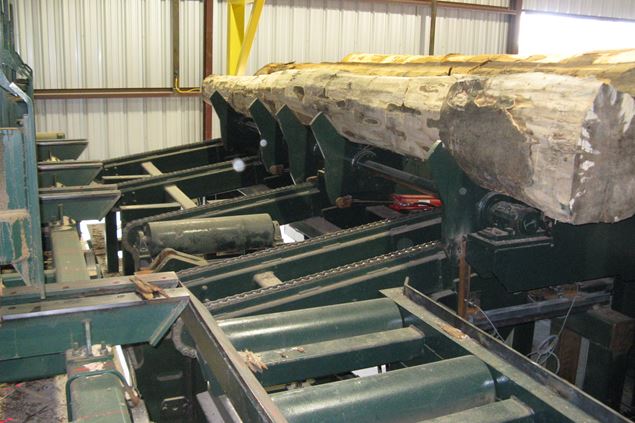 Fly Tie & Lumber eliminated hang ups at the Stop and Loader with the addition of the Mellott Heavy Duty Log Deck with Live Nose Skids.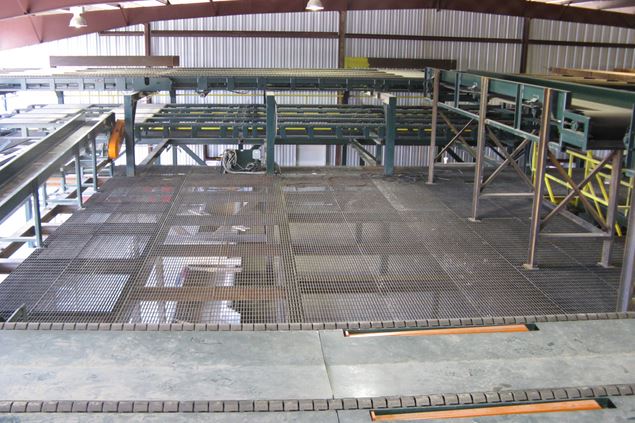 Every mill runs at the rate controlled by its material handling system, which is why Fly Tie & Lumber trusted Mellott to provide numerous belt conveyors and transfer decks throughout the mill.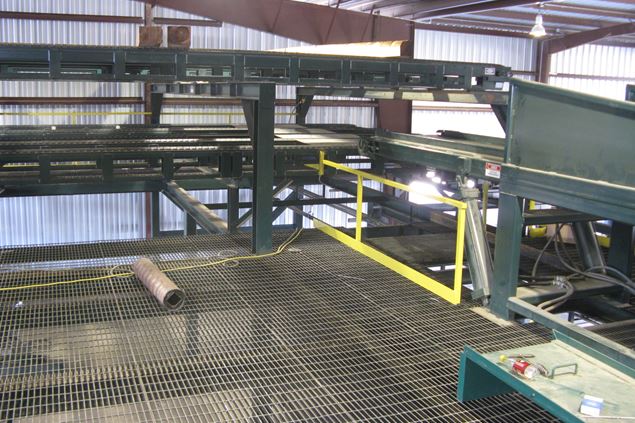 The production is kept flowing smoothly at the back end of the mill by separating lumber to the lower level and ties to the upper level via a custom designed lift belt.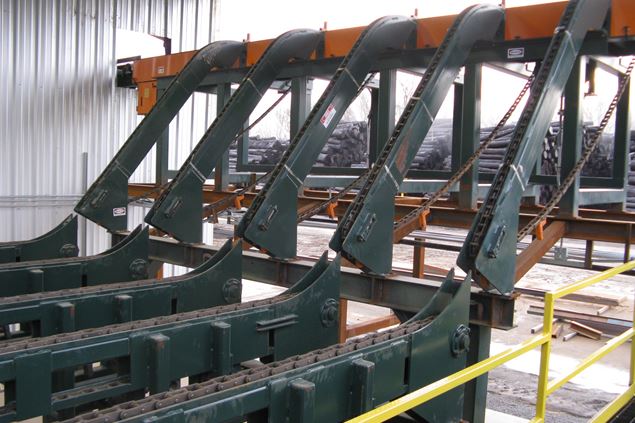 Changing elevation with the high flow of ties and timbers produced at Fly Tie & Lumber is made simple with a Let Down Conveyor system custom designed and manufactured by Mellott.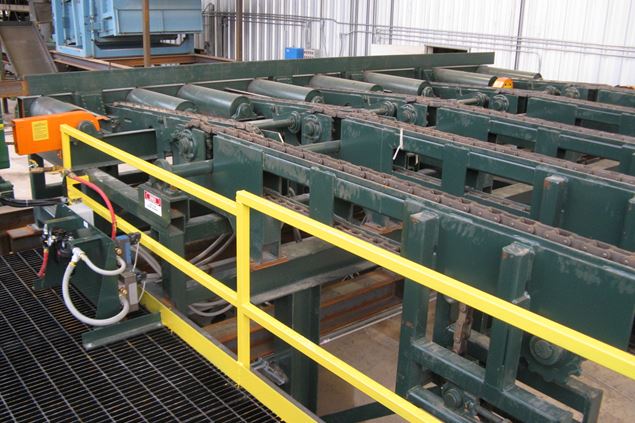 Feeding the Let Down Conveyor System is a Heavy Duty Rollcase with integrated surge capacity.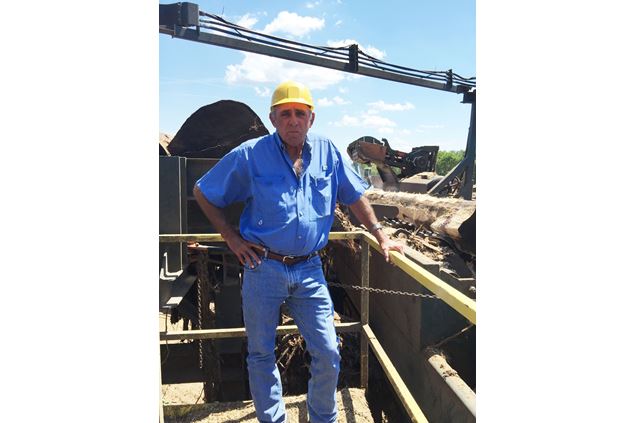 Ricky Fly with the custom designed Mellott LMR 48" Heavy Duty Debarker doing what it does best, trouble free debarking day in and day out.

Mellott Manufacturing Co., Inc.
717-369-3125

Mellott Manufacturing Co., Inc. produces rugged and reliable log and lumber handling equipment. Our products are manufactured in Mercersburg, Pennsylvania, USA. Mellott Manufacturing Co., Inc. has the capability to design and/or fabricate a wide variety of special conveyors and machines for the sawmill, pallet and woodworking industry. If you have a custom design in mind, Mellott is the right choice.