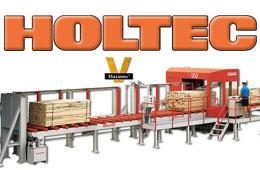 Holtec (USA) Corp.
800-346-5832
Providing Precision Crosscut Systems used to cut whole bundle of lumber to length with a precision of =/- 1mm (.040") and in under one minute. When you need precision package cutting capability call Holtec for the Profitable Solution.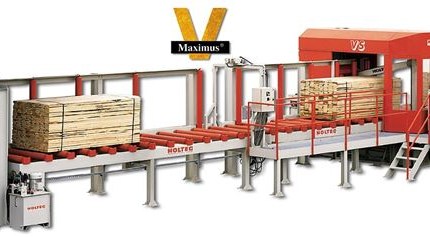 The Maximus ® system is designed for the greatest production capability with minimum material handling requirement. Using a rollcase-based infeed and outfeed, your lumber is placed directly onto the rollers for processing.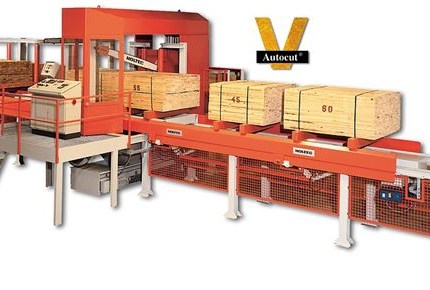 The Autocut® V system uses an electronically controlled carriage controlled by our CNC computer. Your combinations of cutting lengths are pre-programmed into the memory of the computer; your forklift operator simply loads the unit of lumber, initiates the cutting procedure and leaves...the system then processes the entire package and brings it to a discharge position...automatically.
HOLTEC USA Transcut II Station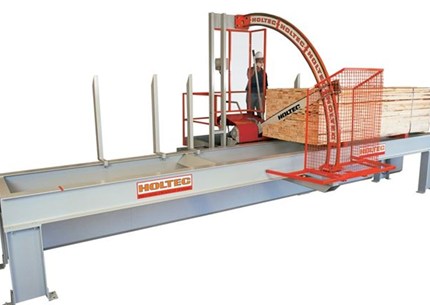 Our economically priced Transcut® II Station provides significantly more precision than what a portable saw delivers and. Using conventional .404" chain saw-chain The Transcut® II Station will cleanly cut through a package of hardwood or softwood lumber in about a minute, and with an accuracy of ± 1/16" and is affordably priced for manufacturers whose needs demand more than a portable saw, but less than the capabilities of our automated systems.
HOLTEC USA Transcut II Portable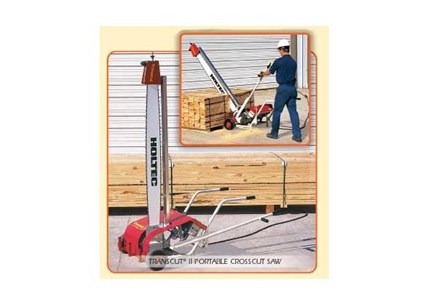 HOLTEC Portable Crosscut Saws are engineered to lower your cutting costs and improve your inventory management. They allow you to cut through an entire unit of lumber in about a minute, while maintaining optimum accuracy. When you need to crosscut lumber or engineered wood products to more desirable lengths, and your operation can't justify a permanent station, HOLTEC Portable Saws are the perfect solution. Priced for value and engineered for safety, HOLTEC Portable Saws use a "tilt-position" design, making them easy to move and position in any environment. As an added feature, our saws are electronically balanced to eliminate vibration from the motor or chain drive systems. This significantly enhances safety for your operator. Whether your yard is paved and level, or unpaved, our "tilt-position" design enables your operator to easily tilt the saw forward, moving its center of gravity over the tires for effortless mobility. This same design allows you to swivel the saw with ease into
HOLTEC USA Selecut V Series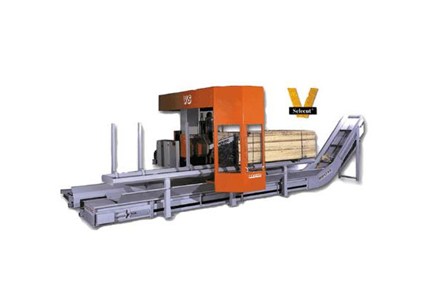 The Selecut® is available with an integrated power package-squeezing system. This inline package alignment enables you to utilize the latest technology in conjunction with the precision cutting capabilities of the Selecut® system and removes the necessity of of pre-aligning packages prior to loading. The power squeeze system is specifically designed to align packages with battens attached and ranging from 8' to 20' in length.