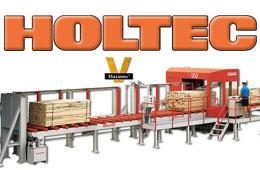 Holtec (USA) Corp.
800-346-5832
---
HOLTEC USA Selecut V Series
HOLTEC USA Selecut V Series
The Selecut® is available with an integrated power package-squeezing system. This inline package alignment enables you to utilize the latest technology in conjunction with the precision cutting capabilities of the Selecut® system and removes the necessity of of pre-aligning packages prior to loading. The power squeeze system is specifically designed to align packages with battens attached and ranging from 8' to 20' in length.
Complete Housing Enclosure around cutting system
Analog Cut Counting Meter, permanent and shift reset-able
Electronic controls and electronic valves
Depth adjustable cutting
Electronic Length Measuring System
Demag® electric drive motor for positioning
Laser-light Guide for cutting
Complete control center with non-slip operator's platform and stairs