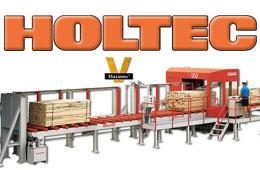 Holtec (USA) Corp.
800-346-5832
---
HOLTEC USA Transcut II Station
HOLTEC USA Transcut II Station
Our economically priced Transcut® II Station provides significantly more precision than what a portable saw delivers and. Using conventional .404" chain saw-chain The Transcut® II Station will cleanly cut through a package of hardwood or softwood lumber in about a minute, and with an accuracy of ± 1/16" and is affordably priced for manufacturers whose needs demand more than a portable saw, but less than the capabilities of our automated systems.
20' Fixed Frame Assembly
3/8" (.404") Stellite® Armored Guide Bar
3/8" (.404") Pitch commonly Available Chain Saw Chain
Automatic Chain Tensioner
Rack & Pinion Movement
Automatic Sawmotor Shutoff
Steel Alignment Stands
Electric Oil Lubrication Pump
HOLTEC parallel Guide Frame
Macrolon® Safety Shielding
Elevating and Galvanized Operator's Platform?