Battle Wagon Trailers
614-832-6656
Manufacturing the strongest most versatile log trailers. Every trailer we build offers flexibility to haul logs, PLUS lumber, cross ties and with our Beaver Tail Drop Deck models even equipment!
Battle Wagon Trailers BATTLE WAGON STRAIGHT FRAME 5755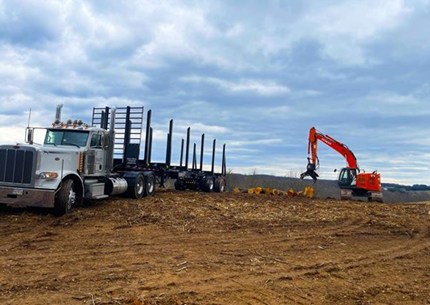 42´ STRAIGHT FRAME TRAILER. 5X7 BOLSTERS AND 5X5 STAKES WITH A MAX HEIGHT OF 90 INCHES ABOVE THE DECK. SPREAD AXLE OR CLOSED TANDEM AND WITH OR WITHOUT LIFT AXLE. A TRUE WORKHORSE BUILT WITH THE STRENGHTH, LONGEVITY AND DEPENDABILITY THAT ONLY BATTLE WAGON OFFERS. MANY OPTIONS AVAILABLE BUILT TO YOUR SPECIFIC SPECS.
Battle Wagon Trailers Well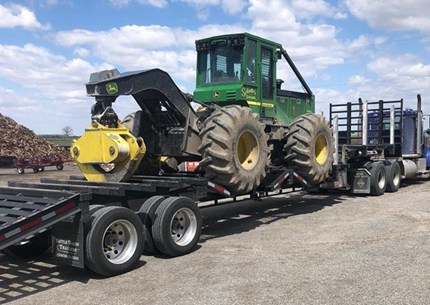 Haul equipment IN and logs OUT! Customized for your equipment needs and built tough like all Battle Wagon Trailers to last and built to perform!
Battle Wagon Trailers Gooseneck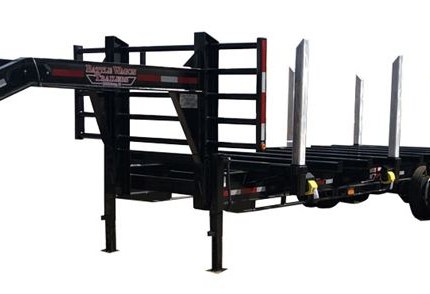 The NEW Battle Wagon Gooseneck trailer is a durable, heavy-duty log trailer built for single axle trucks. Great for select cut logging, small jobs, firewood and tree service companies and MORE! Load Options Include: (2) Bunks of 8'-10' -or- (1) 12' and (1) 8' -or- (1) Bunk of 16-23'
Battle Wagon Trailers 18in Drop Beaver Tail Deck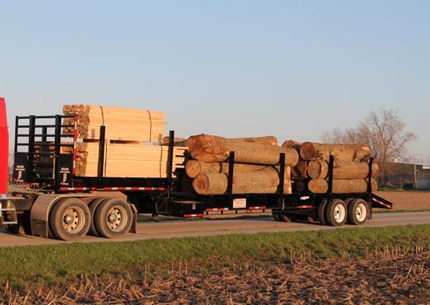 The BattleWagon Beaver Tail Drop Deck Model Allows you to Haul Equipment to the Woods, Logs to the Mill & Lumber to Market. Perfect for All Sizes of Logging & Sawmill Operation Haul It ALL on THE SAME TRAILER! • Great for those days when it's to wet to haul or back Hauls are Available! • Owner Operators Will Profit From A Single Trailer Doing Triple Duty • Less Time, Fuel & Miles Wasted Dragging an Empty Log Trailer Around! Many Standard Models to Fit YOUR Operation • Straight Deck 12 Bolster Log & Lumber Trailer • 12" Drop Deck 12 Bolster Log & Lumber Trailer • 18" Drop Deck w/Beaver Tail • Pup Trailers • Optional Self-Loading Trailers with NEW SERCO Knuckleboom Loaders
Battle Wagon Trailers 3-Axle 18in. Drop Dovetail
Battle Wagon Trailers Straight Frame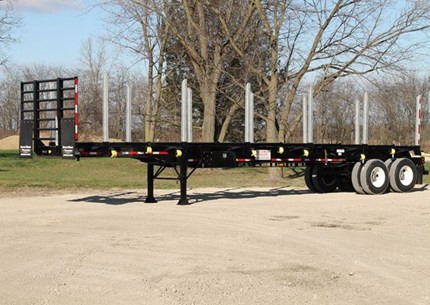 New Battle Wagon 40FT x 102" Straight Frame. All new straight frames come standard with all options shown! 3/8 King pin plate on a 30" setting, Schedule 40 piped headache rack, hand cut and pressed 18" I-beams on a 1 1-2" arch, 25,000# large diameter bearing axles paired with a ridewell 50,000# air ride suspension, air scales and dump valve, Firestone 11R 22.5 FS 560 radial tires, LED lights, 3 mounted on bolster winches and straps per bunk, All heavy duty aluminum stakes 1/2"; wall thickness. All lengths and bunk combinations available. Truly the highest quality trailer on the market! Call battle wagon today 260-623-3322.
Battle Wagon Trailers Low Profile Pup with Custom Log Bed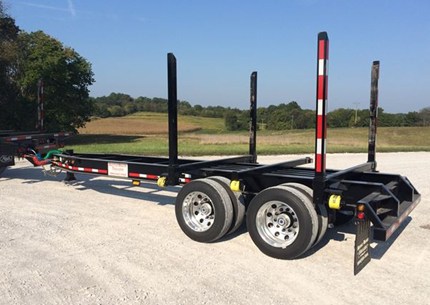 The Low Profile Pup (LPP) Trailer from Battle Wagon was a cooperative effort. The first one was custom built for Altenburg Hardwoods of Altenburg, Missouri to haul high quality veneer and grade logs, while retaining the ability to remove the bolsters to haul lumber or more easily load extremely large logs. An extra-long tongue was incorporated to haul maximum legal loads on interstate highways and meet state bridge laws. As a custom creation from the ground up, the LPP (Low Profile Pup) trailer was built to be driver friendly, strong and safe. Air ride suspension, Low profile tires, all aluminum wheels reduce weight and lower the center of gravity for safety and stability. Attention to detail is evident in the design with the air dump gauge located at the front of the tongue, bolster straps were redesigned for easier access and safety. The rear bumper are is a remodeled version of the super strong and compact Battle Wagon rear bumper to reduce weight maximize ground clearance.
Battle Wagon Trailers 18in Drop Frame Trailer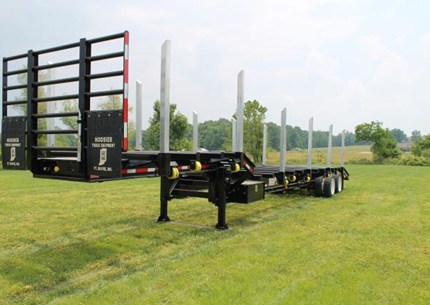 The Battle Wagon 18" drop frame trailer offers a lower center of gravity for improved stability. Haul more, and do it safer. Standard 46' length and 102" width offers open floor design including: 4 x 4 x 3/8" cross members, 5 x 5 x 3/8" bolster pockets. 4 x 4 x 1/4" steel bolster stakes. Stake pocket gussets mounted underneath pocket for maximum bolster, and bolster pocket strength, durability, and most of all working width capacity. The Battle Wagon 18" Drop allows you to haul more material and product per load than any other trailer due to more inside working width.
Battle Wagon Trailers 12in Drop Frame, 42ft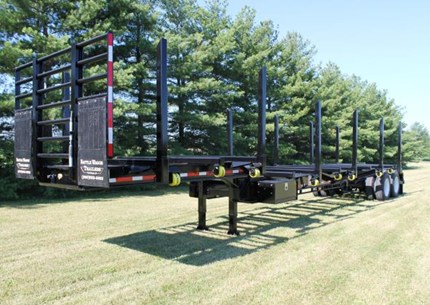 New!! Battle Wagon Drop Deck Trailer. 42' by 102" Air Ride. Built on a 12" drop to lower trailers center of gravity, and increase loading capacity height. All while still having 11R 22.5 14PR Firestone FS 560 tires. All 4x4x1/4" Bolster stakes standing at 5 feet above deck allowing for a 93 1/4" inside width capacity for log loading. All bolster stakes are removable and able to stored on frame of trailer to obtain at full 102" width trailer. 30" king pin on a 12' neck, Heavy 5"x5" dolly down landing gear. Bulk Head, Chain Box, All LED lights, push bumper, 3 straps per bunk to catch ALL forestry products needs. Call Battle Wagon Today 260-623-3322.