Eastonmade Wood Splitters
613-812-3213

Eastonmade Wood Splitters are built in Canada from the best materials for the firewood producer that believes quality should always come first. Our wood splitters are all hand crafted in Perth, Ontario located 40 minutes west of the nations capital. All of our wood splitters come with a 1 year limited warranty on parts and a 3 year engine warranty right from the manufacturer.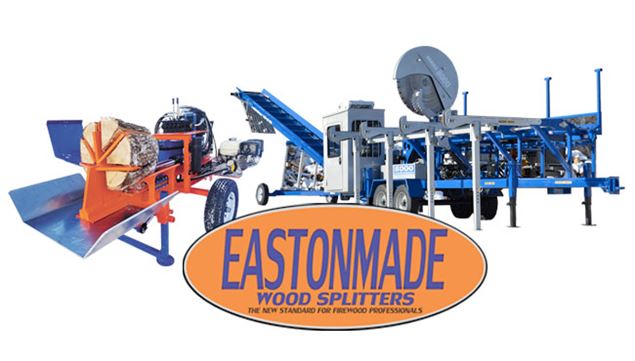 April 8, 2021 - One family, two of the leading companies in the firewood equipment industry are now one.  Brent Easton, owner of Bells Machining Firewood Processors, has decided to retire and sell Bells Machining to his son, Andrew Easton, who is the founder and owner of an industry leader EastonMade Firewood Splitters.  Andrew was instrumental in the move by Bells Machining to begin manufacturing high production and top-quality firewood processors.  Most of the hydraulic and electronics currently utilized on every Bells processor were originally designed and engineered by Andrew prior to his founding of EastonMade Firewood Splitters.
The timing of the move couldn't be better for all involved.  EastonMade's continued growth in the industrial firewood splitter market was being limited by current manufacturing space and Bell's Machining and Hydraulics location has plenty of room for not only combining the two companies, but accommodate the high growth trajectory of the company.  Andrew stated that he has several immediate upgrades planned for the Bell's line-up, but mostly will be concentrating on streamlining and simplifying the manufacturing and sales process.  All model numbers will remain consistent and current owners won't be impacted.  This focus will provide additional time for maintaining both companies' industry leading customer service and R&D that will focus on improved production, safety and operator comfort across the board for the entire line of Bells Processors.

For more information on high quality firewood splitters, processors, conveyors, cleaners and more visit www.eastonmadewoodsplitters.com, or call 613-812-3213 for splitters or 888-995-1965 for processors.
---