Wood-Mizer Introduces Two-In-One MP160 Jointer Planer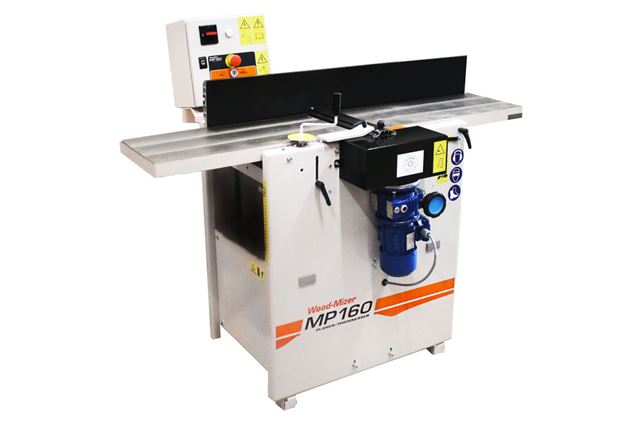 Wood-Mizer introduces the compact and versatile MP160 Jointer Planer as an efficient two-in-one woodworking machine for small workshops. The MP160 joins the Wood-Mizer range of woodworking equipment that includes two-sided planer/moulders, four-sided planer/moulders, and slab flattening machines.

Starting at $4,495 USD, the MP160 Jointer Planer efficiently shares one horizontal cutter between two cast iron tables to produce straight-edged boards with the top jointer table and evenly planed boards with the bottom planer table. Switching between jointing and planing is done easily by moving the board from one table to the other without needing to adjust the table or stop the cutter or extractor. When jointing boards on the upper table, an adjustable board fence tilts up to 45° and locks into place for angled boards. When planing boards on the lower table, two power feed rollers move the board under the horizontal cutter at a fixed speed or optional variable speed.

MP160 Jointer Planer Features

• Starting at $4,495 USD
• 2-in-1 jointer and planer combo
• Switch between jointing and planing without adjusting the table or stopping the cutter
• Jointing capacity: 9" wide
• Planing capacity: 16" wide x 9-1/2" high
• Adjustable jointer board fence up to 45°
• 16 fpm fixed feed or optional 6-39 fpm variable feed for planing
• Heavy-duty cast iron tables and sheet steel chassis
• 240V 60Hz 1-phase or 3-phase power
• Compact 56" x 32" machine footprint

"Wood-Mizer is dedicated to providing the best in class equipment for sawmillers and woodworkers throughout the world," said John Smith, Wood-Mizer CEO. "The MP160 jointer planer is a durable, versatile, and efficient machine that produces the same professional results of a jointer and planer in one compact footprint."

The MP160 Jointer Planer ships on a pallet and requires minimal assembly. Knives and comprehensive sawdust extraction systems are also available from Wood-Mizer. The MP160 Jointer Planer is now available to order worldwide. For more information, visit www.woodmizer.com or contact your local Wood-Mizer representative.

About Wood-Mizer
Since 1982, Wood-Mizer has earned the reputation as a world-leading wood processing equipment manufacturer with a strong legacy from its innovative sawmilling products. From forest to final form, Wood-Mizer offers an extensive line of equipment including narrowband portable and industrial sawmills, wideband sawmilling equipment, band resaws, board edgers, wood kilns, woodworking equipment, firewood processing equipment, pallet recycling equipment, material handling equipment, sawmill blades, and blade maintenance equipment for woodworking and forestry hobbyists and professionals all over the world. Visit woodmizer.com for more information.

Wood-Mizer Products, Inc.
800-553-0182
800-553-0182

Since 1982, Wood-Mizer has become the world's largest manufacturer of portable band sawmills with tens of thousands of bandmills sold. Today, Wood-Mizer offers portable & industrial sawmills, resaws, edgers, kilns, log splitters, bandsaw blades and blade maintenance equipment for woodworking hobbyists and forestry professionals all over the world.