Wood-Mizer Introduces MP220 Planer Moulder Rip Saw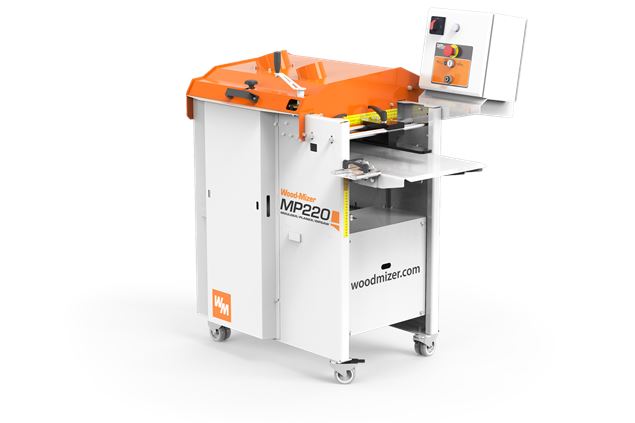 Wood-Mizer introduces the MP220 Planer Moulder Rip Saw as a versatile three-in-one woodworking machine able to produce finished wood trim, flooring, dimensional lumber and more from rough sawn material. The MP220 joins the established Wood-Mizer range of woodworking products that includes jointer/planers, two-sided planer/moulders, four-sided planer/moulders, slab flattening machines, dust collection systems, planer blades, moulder knives, and more.
With the MP220 Planer Moulder Rip Saw, planing or moulding and rip sawing material can be accomplished in one pass to increase production and profitability while saving time. The MP220 features one horizontal cutter for planing or moulding and one circular saw blade for rip sawing or resawing material. The horizontal cutter can be fitted with planing knives or moulding profile knives to produce finished boards and mouldings with a capacity of 3/8" to 15-3/4" wide by 5/8" to 9-1/2" high. Edging or rip sawing of material is accomplished by the adjustable 9" diameter circular saw blade with a rip sawing capacity of 4-1/2" to 11" wide by 3-1/8" high.
For accurate and consistent results, two steel and one polyurethane feed rollers efficiently move material on the heavy-duty cast-iron table through the horizontal cutter and rip saw blade at a variable speed. In addition, the compact size and optional casters save floorspace and provide flexibility to move the MP220 around the workshop.
MP220 Planer Moulder Rip Saw Features
3-in-1 planer, moulder, rip saw
3/8" to 15-3/4" wide by 5/8" to 9-1/2" high planing or moulding capacity
4-1/2" to 11" wide by 3-1/8" high rip sawing capacity
6 to 36 fpm variable feed
Two steel and one polyurethane feed rollers
Heavy-duty cast iron tables and sheet steel chassis
240V 60Hz 1-phase or 3-phase electric power
"In addition to three-in-one versatility for planing, moulding, and rip sawing, woodworkers will appreciate the simple and efficient operation to save time, the precision to produce high-quality and value-added finished products, and the compact design to free up valuable workshop space," said Chad Sanders, Wood-Mizer Woodworking Product Specialist.
The MP220 Planer Moulder Rip Saw is now available to order worldwide. Planer blades, circular saw blades, moulder knives, and dust collection systems are also available from Wood-Mizer. For more information, visit woodmizer.com or contact your local Wood-Mizer representative.

Wood-Mizer Products, Inc.
800-553-0182
800-553-0182

Since 1982, Wood-Mizer has become the world's largest manufacturer of portable band sawmills with tens of thousands of bandmills sold. Today, Wood-Mizer offers portable & industrial sawmills, resaws, edgers, kilns, log splitters, bandsaw blades and blade maintenance equipment for woodworking hobbyists and forestry professionals all over the world.