Wood-Mizer Introduces LX50START and LX50SUPER Portable Sawmills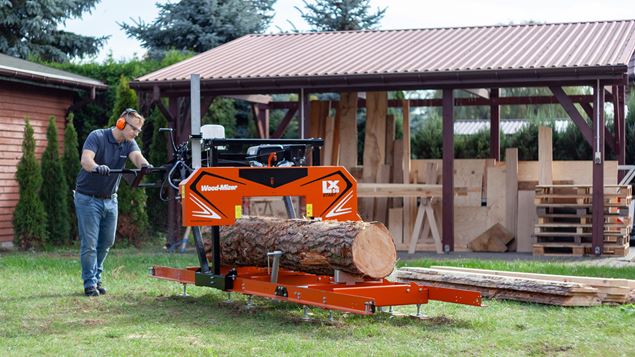 NOVEMBER 2023 – Capturing the growing interest of hobby sawmilling and the DIY woodworker movement, Wood-Mizer, a globally renowned leader in the sawmill industry, introduces the LX50START and LX50SUPER portable sawmills with a starting price of $2,995 USD. Combining premium quality features with an entry-level price, the LX50START and LX50SUPER portable sawmills are an exceptional value for anyone who wants to start sawing their own lumber and slabs for buildings, fencing, furniture, and more with minimal investment. Introduced as the lowest priced Wood-Mizer portable sawmills ever, the LX50START and LX50SUPER join the industry-leading line of reliable and durable Wood-Mizer sawmill equipment engineered for hobbyists and professionals throughout the world.
Premium Quality Features, Entry-Level Price
The LX50START and LX50SUPER portable sawmills feature the ability to saw 26" diameter hardwood and softwood logs into boards and slabs with a 23-1/2" width of cut and 8" depth of cut. Sawing capacity is maximized with the rectangular throat design that provides full width sawing at any cutting depth. In addition, longer logs can be sawn with optional modular bed extensions and no practical limit.
The LX50 portable sawmills add strength and durability where it counts with a premium steel sawmill frame, laser cut steel bed, diagonal bed crossbars for additional stability, and more. Packed with performance-enhancing features, both LX50 portable sawmills include reliable KOHLER gas engines, high-performance blade guide rollers, gravity-fed blade lubrication, quick up/down sawhead, and quick-set log handling for a user-friendly sawing experience.
The LX50SUPER portable sawmill, starting at $3,995 USD, includes multiple upgrades compared to the LX50START for better sawing performance and operation including a heavier-duty bent steel sawmill frame, more powerful engine, longer sawing length, bed leveling feet, heavier-duty side supports, extra log clamp, and more. These performance-rich features combined with the industry-leading reliability and durability of Wood-Mizer equipment makes the LX50 portable sawmills one of the best valued portable sawmills for the money in its class.
"Wood-Mizer strives to provide the sawmill industry with the most choices to accommodate various applications and preferences," says John Smith, Wood-Mizer CEO. "In addition, we are committed to serving sawmill equipment owners at any experience level with excellence. The LX50 portable sawmills fit the need of hobby sawyers who want to start sawing their own boards at home with an affordably priced, easy to use, premium quality sawmill from a company that has a 40-year history."
Market Availability and Ordering
The LX50START and LX50SUPER portable sawmills are now available to order worldwide. With a 2-year warranty and 30-day money back guarantee in the United States, customers also have access to experienced and professional technical service. For more information or to order, visit woodmizer.com or contact your local Wood-Mizer representative.
About Wood-Mizer
Since 1982, Wood-Mizer has earned the reputation as a world-leading wood processing equipment manufacturer with a strong legacy from its innovative sawmilling products. Serving more than 100,000 customers throughout the world From Forest to Final Form®, Wood-Mizer offers an extensive line of equipment including narrowband portable and industrial sawmills, wideband sawmilling equipment, band resaws, board edgers, wood kilns, planer/moulders, firewood processing equipment, pallet recycling equipment, material handling equipment, sawmill blades, and blade maintenance equipment for woodworking and forestry hobbyists and professionals all over the world. Visit woodmizer.com for more information.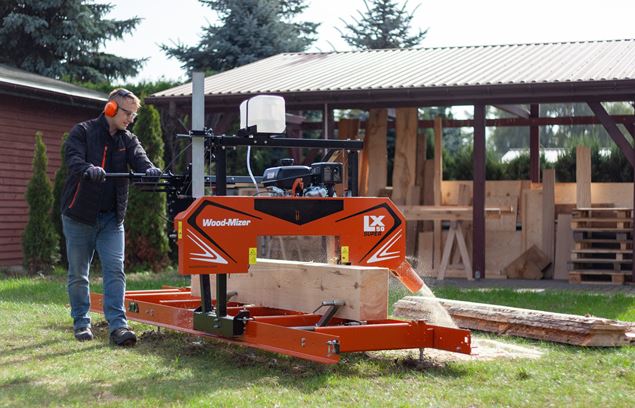 Wood-Mizer Products, Inc.
800-553-0182
800-553-0182

Since 1982, Wood-Mizer has become the world's largest manufacturer of portable band sawmills with tens of thousands of bandmills sold. Today, Wood-Mizer offers portable & industrial sawmills, resaws, edgers, kilns, log splitters, bandsaw blades and blade maintenance equipment for woodworking hobbyists and forestry professionals all over the world.