Wood-Mizer Introduces Entry-Level Bandsaw Blade Sharpener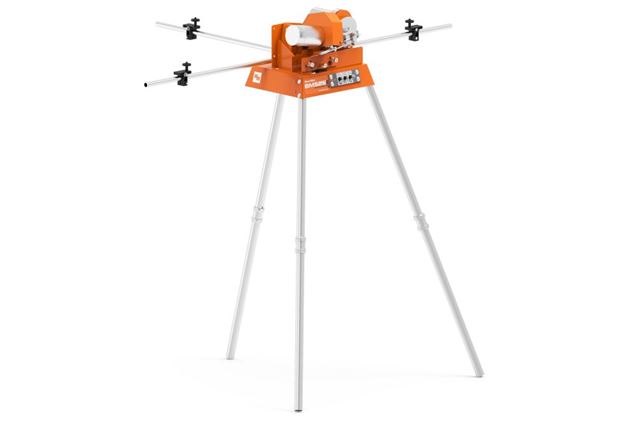 Wood-Mizer introduces the entry-level BMS25 bandsaw blade sharpener designed for hobbyists and sawmillers in rural areas. Built in the USA, the BMS25 joins the Wood-Mizer range of sawmill blade maintenance products that includes personal and professional bandsaw blade sharpeners and tooth setters as well as grinding wheels.
Starting at $799 USD, the BMS25 runs on a 12V battery and can sharpen a variety of bandsaw blade profiles at a rate of 30 teeth per minute which is up to 5 times as fast as comparable sharpeners. The index arm automatically advances the sawmill blade as the grinding wheel sharpens the face and gullet of each tooth. The index arm also has a jog feature to advance the blade manually for easy set-up. The blade support arms feature a smooth ride and steady support to ensure consistent sharpening quality throughout the length of the blade.
The BMS25 is built in the USA and comes complete with a 5" grinding wheel, wheel shaping tool, and an durable stand while the battery is sold separately. When sawmill blades need to be sharpened on-site in rural areas, the BMS25 can connect to a 12V DC battery of a sawmill, truck, tractor or other automotive-style batteries that are able to maintain a 10-amp load. In addition, the sturdy stand includes 1-3/16" diameter pipe legs for durability and a wide base for extra-stability.
BMS25 Bandsaw Blade Sharpener Features
Starting at $799 USD
Sharpen a variety of sawmill blade profiles at 30 teeth per minute
Auto feature automatically advances the blade for sharpening
Jog feature manually advances blade
Compatible with 1", 1-1/4", and 1-1/2" wide bandsaw blades with 7/8" tooth spacing
Cam for 10°/30° profile blades standard
Optional 9°/29° cam with 4°/32°, 7°/39°, 7°/34°, and 7°/47° cam options coming soon
5" grinding wheel included with shaping tool
12V battery sold separately
Built in the USA
"Wood-Mizer is dedicated to providing the best in class equipment for sawmillers and woodworkers throughout the world," said John Smith, Wood-Mizer CEO. "The BMS25 is an entry-level blade sharpener for people who want to maintain their own blades affordably with the flexibility to sharpen blades anywhere in the world."
The BMS25 ships in one compact package and requires minimal assembly with an approximate 20-minute set-up time. The BMS25 bandsaw blade sharpener is now available to order worldwide. For more information, visit www.woodmizer.com or contact your local Wood-Mizer representative.
About Wood-Mizer
Since 1982, Wood-Mizer has earned the reputation as a world-leading wood processing equipment manufacturer with a strong legacy from its innovative sawmilling products. From forest to final form, Wood-Mizer offers an extensive line of equipment including narrowband portable and industrial sawmills, wideband sawmilling equipment, band resaws, board edgers, wood kilns, woodworking equipment, firewood processing equipment, pallet recycling equipment, material handling equipment, sawmill blades, and blade maintenance equipment for woodworking and forestry hobbyists and professionals all over the world. Visit woodmizer.com for more information.

Wood-Mizer Products, Inc.
800-553-0182
800-553-0182

Since 1982, Wood-Mizer has become the world's largest manufacturer of portable band sawmills with tens of thousands of bandmills sold. Today, Wood-Mizer offers portable & industrial sawmills, resaws, edgers, kilns, log splitters, bandsaw blades and blade maintenance equipment for woodworking hobbyists and forestry professionals all over the world.