Wood-Mizer Introduces WB2000 Industrial Sawmill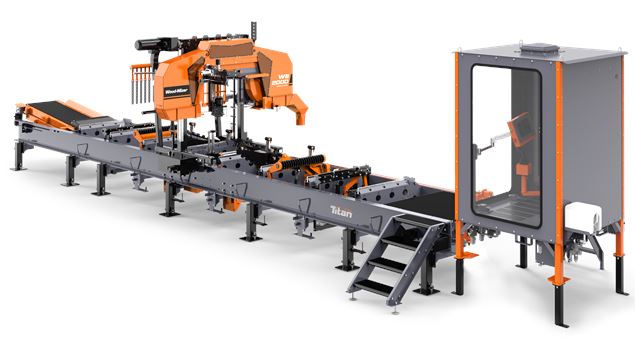 Wood-Mizer introduces the WB2000 high-performance industrial sawmill that has been engineered specifically to meet the needs of high-production timber processing markets in North and South America. Successfully installed and operating in six continents since its initial debut, the WB2000 expands the versatility and affordability of a high-performance industrial sawmill in addition to providing world-class service and support from Wood-Mizer's leading distribution network.
Capable of sawing with 2" or 3" wide sawmill blades, the WB2000 combines the increased yield of thin-kerf blade technology with the durability and reliability that high-production operations demand. In addition, WB2000 sawmill blades can be sharpened with fast, accurate, and affordable CBN grinding wheel technology rather than relying on the expertise and costly resources of a professional saw doctor. Packed with high-performance features, the WB2000 includes a powerful 50HP electric motor, heavy-duty construction, low maintenance, live feed 2-camera video system, and an efficient operation with precision setworks for sawing large diameter softwood, hardwood, and tropical logs. The WB2000 can be used as a standalone sawmill to fully process a log, or in addition to an existing system to process irregular logs or produce custom orders.
"Wood-Mizer is committed to providing the best sawmill equipment for high-production operations throughout the world," said Luke Murray, Wood-Mizer TITAN Product Manager. "The WB2000 gives industrial sawmill businesses a robust, affordable, and proven sawmill with the added benefits of increased yield, production, and versatility."
WB2000 High-Performance Industrial Sawmill Features
Heavy Duty Twin Rail Head Construction with Quad Post Support
Increased Material Drag Back Capability
Wideband Performance with 2" or 3" Wide Sawmill Blades
6 Ton Log Capacity
Live Feed, 2-Camera Video System
Electronic setworks and an elevated operator control station allow a single operator to manage all sawing and hydraulic log handling functions while maintaining a clear view of production. The advanced setworks are displayed on a HMI touch-screen which presents board and cant sizes along with current head height, feed position, and blade power. In addition, deluxe joysticks provide the operator with precise control of all sawing and log handling functions and feature proportional hydraulic speed control. Hydraulic log handling functions include a dual-post log clamp, vertical side supports, bi-directional chain log turner, and power rollers for positioning the log and removing cants. The Wood-Mizer WB2000 high-performance industrial sawmill is now available worldwide. Contact your local Wood-Mizer Representative to order. For more information, visit www.woodmizer.com/titan.
About Wood-Mizer
Since 1982, Wood-Mizer has earned the reputation as a world-leading wood processing equipment manufacturer with a strong legacy from its innovative sawmilling products. From forest to final form, Wood-Mizer offers an extensive line of equipment including narrowband portable and industrial sawmills, wideband sawmilling equipment, band resaws, board edgers, wood kilns, woodworking equipment, firewood processing equipment, pallet recycling equipment, material handling equipment, sawmill blades, and blade maintenance equipment for woodworking and forestry hobbyists and professionals all over the world. Visit woodmizer.com for more information.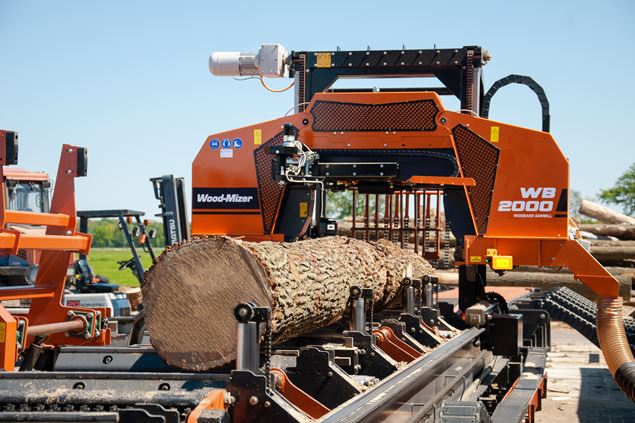 WB2000 in Action

Wood-Mizer Products, Inc.
800-553-0182
800-553-0182

Since 1982, Wood-Mizer has become the world's largest manufacturer of portable band sawmills with tens of thousands of bandmills sold. Today, Wood-Mizer offers portable & industrial sawmills, resaws, edgers, kilns, log splitters, bandsaw blades and blade maintenance equipment for woodworking hobbyists and forestry professionals all over the world.