Cleereman Industries Launches Cleereman Controls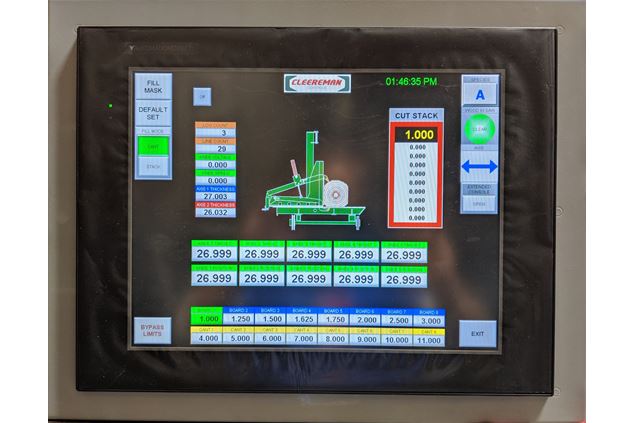 Newald, Wisconsin – After decades of working with the leading setworks and control companies, Cleereman Controls was officially founded in April 2019, to build upon parent company, Cleereman Industries' 64-year history of providing simple and innovative sawmill machinery backed by legendary customer service. Continuing in that tradition, a first-class team was assembled with Stefan Dracobly as president and Dan Tooke as Senior Optimization Engineer. Stefan formerly served as Vice President of Engineering at Lewis Controls bringing over 16 years of hands on experience integrating technology into the sawmill industry. Dan brings 23 years of experience, serving as a software engineer for Lewis Controls and Columbia Vista Corp and most recently at Maxcess Tidland as Controls Group Leader/Software Lead Engineer.
Cleereman Controls mission is simply to provide Cleereman customers with the long-term security of knowing that product quality, performance and service is insured.

Programming and software development will take place at our Vancouver, Washington office while panel construction and control testing will be conducted at the Cleereman Industries facility in Newald, Wisconsin. Cleereman Controls is currently offering complete systems for proportional, linear positioning and full scanning with your choice of BOF and MOF solutions for both new Cleereman installations as well as replacement and upgrading of existing systems. Recently installed Cleereman Controls systems include J.W. Perry Lumber in Caneyville, Kentucky and Soapstone Lumber in Peach Bottom, Pennsylvania with six additional systems presently in production.


Cleereman Industries
715-674-2700

Cleereman Sales, Inc. has been building the highest quality sawmill machinery for more than 66 years. We specialize in carriages - Linear Positioning, Set Shaft & Tilt carriages. At Cleereman, we have a carriage to fit nearly every size sawmill operation.