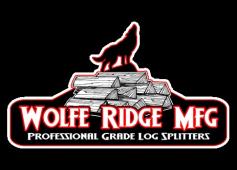 Wolfe Ridge Mfg LLC
715-598-7790
Where do you find a high quality commercial grade log splitter built just for you? Wolfe Ridge Manufacturing does just that, quite possibly the only manufacturing company in the USA that will custom build each machine to your order. We take pride in our work and love to be able to serve our customers with the best Made in the USA log splitters available!
Wolfe Ridge Mfg Compact Commercial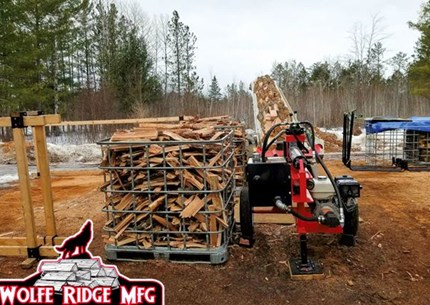 The NEW Compact Commercial splitter from Wolfe Ridge is designed to give your operation the power and performance needed in small woodlots and tight locations. Towable from either end and operable from either side, not only did we pack a BIG punch in a small package, but it's available in your choice of 22, 28 and 35 Ton Models! Heavy steel throughout, 13HP Honda GX390 gas engine, 22 GPM cast iron hydraulic pump, powder coated, 4 Way Wedge... The choice is simple - call Wolfe Ridge TODAY 715-598-7790 And like everything from Wolfe Ridge IT'S MADE IN THE USA.
Wolfe Ridge Mfg SS 3030 HD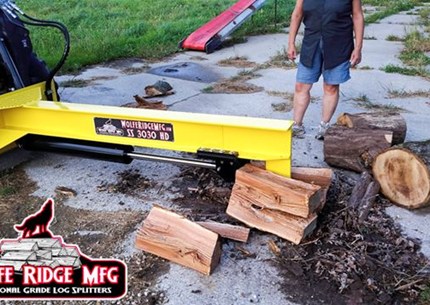 Convert your skidsteer in to a firewood busting monster with the SS 3030 HD from Wolfe Ridge. Easily busts the gnarliest chunks to easy to handle sizes. As with everything from Wolfe Ridge, the Inverted Skidsteer splitter line up is built HEAVY DUTY! 8 Inch Reinforced beam, 1 inch think pusher with grade 8 hardware, all Gates hoses, adjustable 4 Way wedge AND your choice of the SS 2824 HD, 3030 HD or 3036 HD models that range from 24 to 36 inch stroke. If you have GNARLY, hard to split BIG WOOD - call Wolfe Ridge at 715-598-7790 TODAY And like everything from Wolfe Ridge IT'S MADE IN THE USA.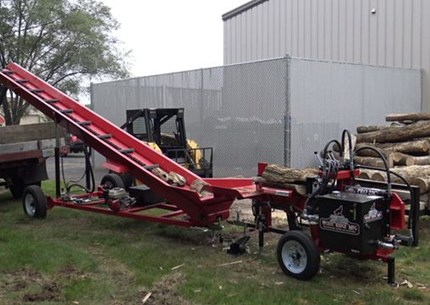 When we decided to build a conveyor to integrate with the Wolfe Ridge line of commercial grade firewood splitters it HAD TO BE a great price, first quality, innovative and built to last. The FC16 - FC32 line of firewood conveyors are all that and much more. 81X steel chain, Honda power or drive off your current splitter or processor's hydraulic system, chip and fines separator TOP AND BOTTOM STANDARD! Tires that turn 90 degrees to make huge piles of firewood BEFORE you have to move the splitter or processor. If you need to up your game with a conveyor call Wolfe Ridge at 715-598-7790 TODAY And like everything from Wolfe Ridge IT'S MADE IN THE USA.
Wolfe Ridge Mfg Wolfe Ridge SHO Commercial Splitter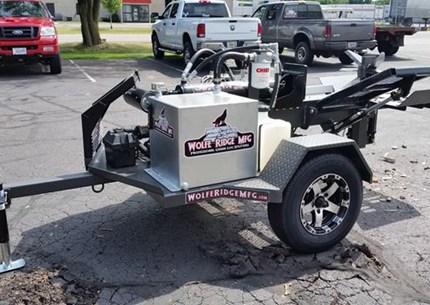 When time equals Labor Cost, you need the fastest, most efficient machine to be profitable in a tough firewood market! Big power, High Speed and Ergonomic design are critical for making money when the clock is ticking. Comes standard with 20 hp Honda GX630 engine, 28 GPM pump, Auto Cycle, 4 way and 6 way Hydraulic wedges, 700# log lift, welded sorting table, stabilizer jacks front and rear and full suspension to make this machine like no other splitter on the planet! Custom built for you here in Wisconsin, USA Give us a call today! (715) 598-7790
Wolfe Ridge Mfg Beast Mode v1.2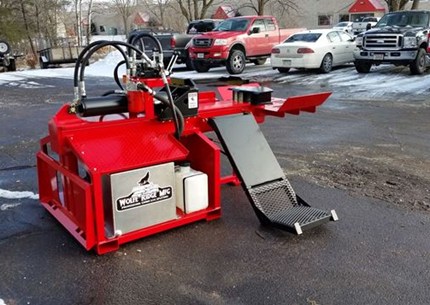 3524 HDI box wedge machine... AKA The Beast v1.2 - perfect for high producing farms or tree care and landscape companies!