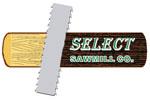 Select Sawmill Co.
866-724-7600
Select Sawmill Co. upholds its reputation for producing unique sawmills and equipment of exceptional quality workmanship. We are consistent in our company values, by providing service to all our customers that is friendly, courteous, and action oriented.
Select Sawmill Custom Log Handling Equipment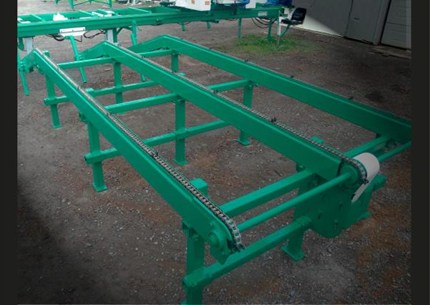 Line Infeed/Outfeed Decks and Custom Conveyors - We fit your needs with Log/Lumber Handling Systems. We offer a wide variety of belt conveyors used for the first transformation of logs: sawdust, slabs, boards, cants, transfer and more
Select Sawmill Chain transfer table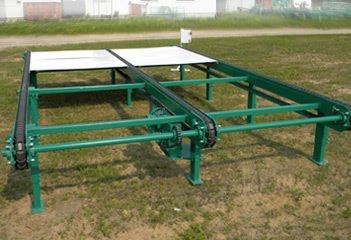 Chain transfer table (horizontal or with cylinder incline) for heavy lumber and cants
Select Sawmill Edger outfeed finger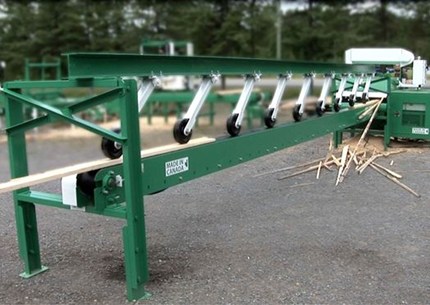 Specialized edger outfeed finger conveniently separates the rough edges from the boards as they pass through the edger. The cut edges are dropped to the side while the boards are carried forward to the (optional) roof top chain deck, eliminating the need for one person. The boards remain steady as they advance with the rolling wheels and downward pressure of the outfeed fingers.
Select Sawmill TS716 Trim Saw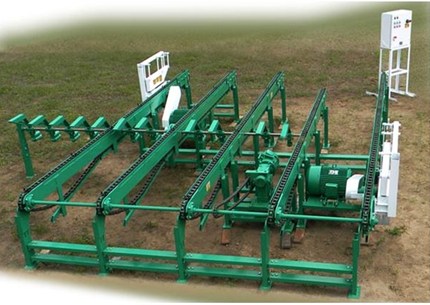 Produce precise board lengths from 3' to 16' with the SELECT TS716 Trimsaw. Can be set to desired increments. Optional extension for longer boards.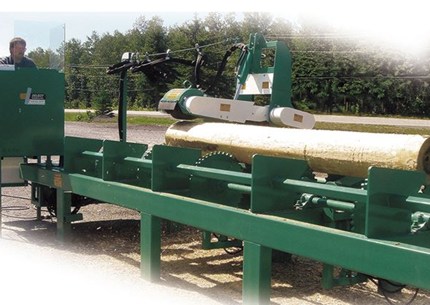 SELECT 'Rosserhead Style' Debarker handles logs from 36 inches down to 5 inches in diameter and up to 20 feet long. It is sensibly designed to perform vigorously without the waste of excessive power consumption.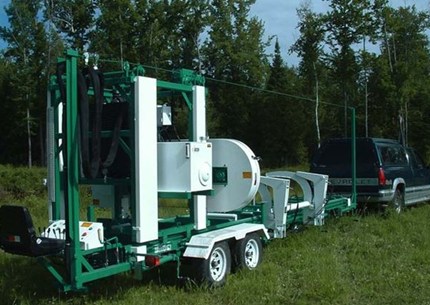 Not just another day... ANOTHER GREAT DAY Portable sawmill with 4" double-cut blade for the sawyer on the go! SELECT 3620 Portable Sawmill is built tough and capable of a hard day's work. It will cut twice as fast as any other thin kerf mill. Built on a smaller scale SELECT Model 3620 boasts the same superior quality as our SELECT Model 4221, and that is why this model stands out above the competition. This portable unit is for the sawyer who prefers to be on the move. Drive to your location, set in place, level the sawmill, and in just a few minutes you are ready to saw.
Select Sawmill 4016E Board Edger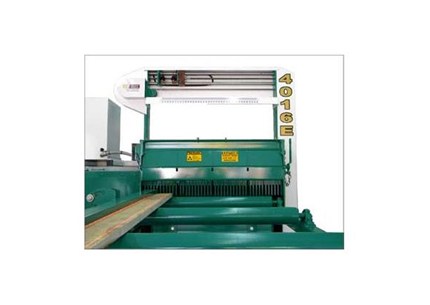 SELECT 4016E BOARD EDGER, Heavy-Duty and Affordable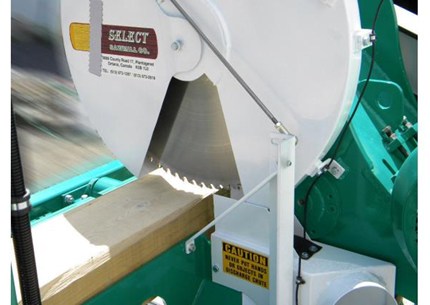 Equipped with hydraulic cylinder for head (up/down) movement, hydraulic clamping device, laser guide, vacuum sawdust collector and hydraulic power-pack (not shown). Compact design for lightweight shipping.
Select Sawmill 4221 Band Sawmill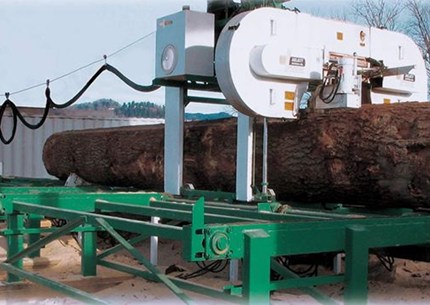 Take production to the MAX! - High output bandmill with 6" double-cut blade. The solution to an affordable commercial operation. Designed for commercial use, SELECT Model 4221 sawmill is known for its exceptional quality workmanship and outstanding performance. The unit is the ultimate in sawmills of its class with both user-friendly and high volume production capabilities. Powered by a 115 hp John Deere Turbo diesel engine or a 75 hp electric motor, this sawmill will cut effortlessly into any type of wood. Its cutting speed, up to 3 ft per second, is achieved with the double-cut blade (cuts in both directions), high efficiency hydraulic system and computerized setworks. One of the features highly favored by our clients is the operator's panel, in front of which the sawyer can remain comfortably seated to operate the mill.