Putsch & Company, Inc.
800-847-8427
For over 60 years we've worked with shops worldwide, providing robustly built panel saws, compact edgebanders and vertical CNC routers. Serving the woodworking, glass, plastic and building enclosure industries, our Italian-made machinery are built to UL/CSA norms and have US-based support through our nationwide network of knowledgeable dealers and trained technicians. Putsch® maintains a robust inventory of machines and OEM spare parts in North Carolina.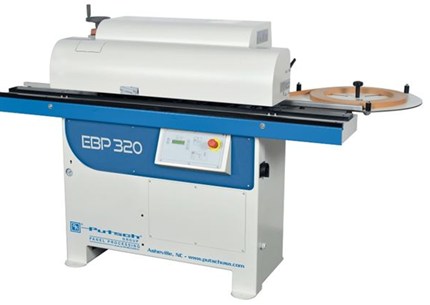 The EBP 320 is our most basic edgebander that is a welcome addition in any small workshop. This highly compact unit (81 in. x 38 in.) is capable of handling 0.4 to 2 mm thick tape. Made for fast start-up with a quick-heating Teflon-coated glue pot, the machine delivers front-and-back as well as top-and-bottom trimming. The EBP 320 is available in both three and single-phase (at additional cost). Panels are pulled by a steel-reinforced toothed belt over aligning rollers that help to keep the panel flush against fence during operation. The 1800 mm long work table is covered with scratch-resistant phenolic strips and there is a front extending support to help carry larger panels. Banding is cut from the coil via a pneumatic shear. Three pressure rollers evenly apply the banding to the glued edge, and the front and rear edges of the banding are cut using a pneumatic end trim unit. The top-and-bottom flush trim unit has 75 mm cutters (with disposable knives) that offer a straight / 2 mm radius / 15° bevel. The flush trim unit also includes 120 mm scratch-resistant vertical disc copiers that are ideal for delicate finishes. An optional mobility kit with caster wheel and t-handle provides the flexibility to store the unit out of the way when not in use.