Nicholson Manufacturing Ltd
844-227-5633
Nicholson Manufacturing is a Ring Debarker Specialist and it's been that way for over 60 years. Ring Debarkers are what we do – they are our passion. All around the globe, wherever there is a forest products industry, you will find Nicholson equipment in operation – reliably and efficiently doing the job it was designed to do and adding value to the bottom line.
Nicholson r2 Sliding Ring Debarker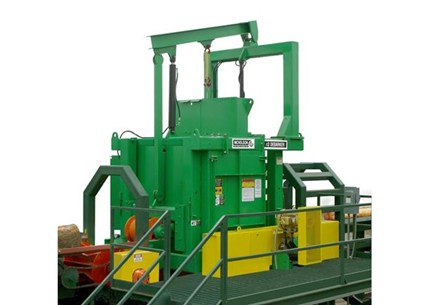 Nicholson r2: Low Speed Sliding Ring Debarker This recent addition to the Nicholson debarker line is specifically designed to provide the superior debarking and fiber saving benefits of a ring debarker in lower speed (50fpm) applications. In addition, the r2's production capabilities and competitive price contribute to a significant value advantage over applications that have traditionally used rosser head style debarkers. Available in a 40"(1016mm) ring size.
Nicholson A6 Sliding Ring Debarker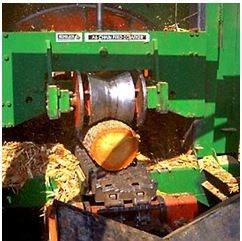 Nicholson A6: Medium Speed Sliding Ring Debarker The debarker of choice for medium production mills in both hardwood and softwood applications. The A6 combines high reliability, superior bark removal and maximum protection of your valuable wood fiber combined with low maintenance and an economic capital cost. Available in 22"(559), 27"(686mm), 35"(890mm), and 44"(1119mm) ring sizes.
Nicholson A8 High Speed Fixed Ring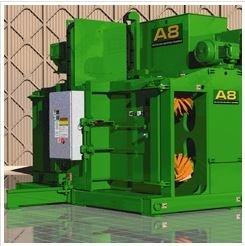 Nicholson A8: High Speed Fixed Ring Debarker The Nicholson A8 debarker represents the culmination of over 60 years of ring debarker design, application and development experience. Capable of extremely high feed speeds with excellent debarking performance and fiber retention the A8 is the debarking solution for today's high production mills. Available in 17"(432mm), 22"(559mm), 27"(686mm), 31"(787mm); and 35"(890mm) ring sizes. The A8 is available in both single ring and tandem ring configurations in all sizes.
Nicholson A5C High Speed Fixed Ring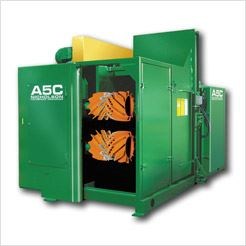 The Nicholson A5C debarker is the culmination of engineering developments made over the life of the highly successful A5 series. It incorporates the latest Nicholson innovations in regard to air system, feedroll control and ring/tool response. Available in 17"(432mm), 22"(558mm), 27"(686mm), & 35"(890mm) ring sizes.
Nicholson A1 Extreme Duty Sliding Ring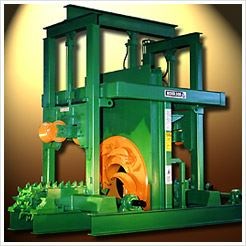 The Nicholson A1 debarker is both the fastest and most heavily built sliding ring debarker in our product range. It is ideal for applications where both logs and or debarking conditions are unusually difficult and where optimum debarking quality and high end production volume are required. Available in 27"(686mm), 35" (890mm), & 44"(1119mm) ring sizes.