Newman Machine Company Inc.
336-273-8261
Over a century ago, in 1907, George F. Newman, the co-founder and first president of Newman Machine Company, had a far-sighted vision of the importance of machines in the lumber, millwork, and furniture industries. This vision led him to organize the company which today stands as a leader among manufacturers of woodworking machinery. We pride ourselves on 180 years of building cutting edge machinery for the wood and lumber industries. We cannot wait to help you with your projects!
Trim Saw
Viewing Page 1 of 1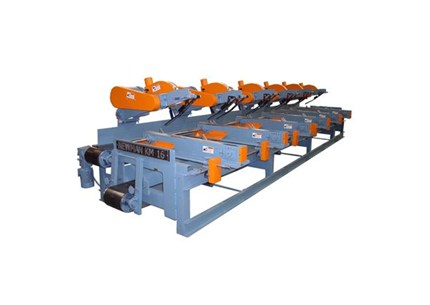 The Newman KM-16 is designed to trim lumber into multiple lengths in a highly productive and accurate manner. The machine comes standard with a low maintenance holddown system and new upgraded dust collection ports. The KM-16 will process material up to 4? (102 mm) thick and 16' (4.8 m) long. Each V-belt driven saw unit is equipped with its own 7-1/2 HP (6 kw) motor. Feed rates are 20 to 60 cuts per minute. Saw blades are 18? (457 mm) in diameter. The machine can be extended to cut longer lengths. Saw units may be added or deleted. The machine has built-in 12? lumber and scrap conveyors. New wider lumber belts are also available. For ease in sorting different length material, opposing split lumber belts are optional. Digital saw position indicators are optional for reduced set up time. Saw scales are also available. Engineered for reduced set up time and lower maintenance cost, this trimmer is designed with the customers' needs in mind.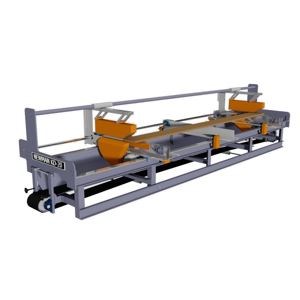 The Newman KD-20 and KD-2S are designed to end trim lumber in an efficient, safe, and cost effective manner. The saw units may be set manually with hand cranks or by the optional mechanical or electronic means. KD-20 saw units move independently of one another. KD-2S saw units move in or out in unison. Additional saw units may be added. Scrap conveyors are optional. Like all Newman machines the KD-20 and KD-2S are covered by our standard one year warranty and backed by a parts and service department second to none.