L-M Equipment Co. (1981) Ltd
800-455-8807
Leading package cross cut systems manufacturer in North America. From portable saws, to automated high tech systems, have the system that will meet your needs. Call for a free CD Rom today, for machines that are "built to provide service-not require it!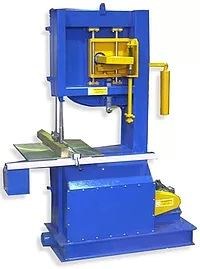 The B42 Vertical Resaw has been a proven work horse for cutting cedar roof shingles for well over 25 years. ? We have taken the proven design and with very few modifications, enhanced it to accommodate the market for ripping cants, boards, stringers and other wood products that requires a heavy duty vertical cutting system. ? Powered by a 15HP electric motor and using a 1-3/4" wide x 1/16" kerf saw blade, this saw is built to perform day in and day out. It can also be equipped with power feed rollers and infeed/outfeed tables.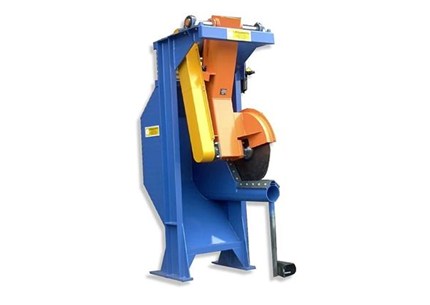 This new air operated saw uses foot pedal controls for fast cycle times and operator safety. Available as a stand alone unit, to replace your old worn out saw, or complete with infeed and outfeed tables with adjustable stops. Like every piece of equipment that L-M manufactures, the high speed trim saw is built heavy – heavier than required.
L-M Equipment Co Ltd I-Cut Model 30-HM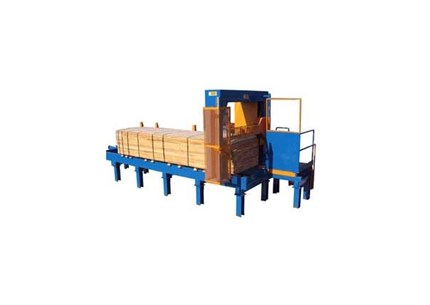 Newest technology to achieve consistant accuracy. Our newest design, with a cutting tolerance of +- 1/32". I-Joists, Structural Components, Studs, Pallet Stock, Fencing and More!
L-M Equipment Co Ltd Portable Yard Saws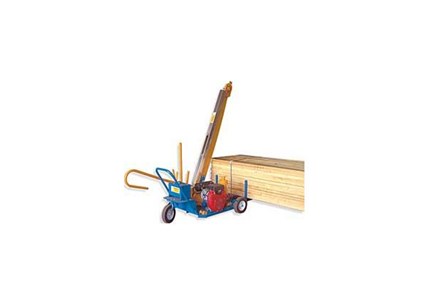 The L-M Portable Yard Saws are the most popular portable saws manufactured in North America, with well over 300 machines in operation world wide. These durable saws are mounted on three wheels, and offer a standard 3" side shift for ease of operation. The side shift allows the operator to line up on the mark without having to physically move the saw over, simply pull on the handle and lock it in place. Heavy bumpers are mounted on the front to hold the saw square to the lumber package, once it is square, a positive lock brake system will hold the saw in place until your cut is complete.
L-M Equipment Co Ltd HMPC-7-24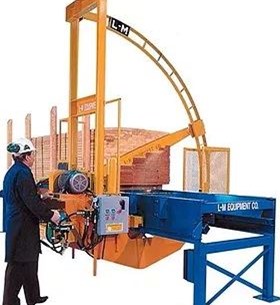 This model of Package Cross Cut Saw offers incredible value, for a stationary turn key system. With a cutting tolerance of +-1/16" and a beautiful surface finish, even the smallest pallet manufacturer could justify the expense with the tremendous pay back calculation. Huge Labor savings. One person could process a 16' lift in 10 minutes or less! ? This Hydraulically controlled system uses a STEEL arch to guide the 7' long stellite inlaid saw bar through the package of lumber with amazing ease. Once the operator presses the saw cut lever, the saw will cut through automatically until it reached the bottom, it will then shut the saw motor off and wait to be raised, using the hydraulic cylinder. Another hydraulic valve is used to move the saw carriage to the next cut location. This system also offers a laser light to indicate saw cut position, as well as digital readout system.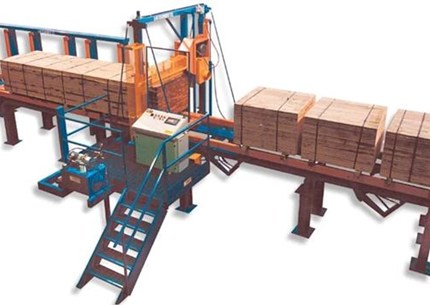 Verticut with Carriage system using manual operated controls is the most competitively priced turn key system still offering the P.E.T. cutting tolerance of +- 1/32" with the incredible surface finish. The operator uses a laser light or digital readout system to position the package for the correct cut location, he then presses the cut button, the saw will proceed with the cut and shut down once it is through the package. The operator can then activate the package lift to open up the kerf, and allow a clear path for the saw to raise. Once the operator raises the saw, the package can then be positioned for the next cut. ? This system should be your first choice, for a high production, extremely accurate and most competitively priced turn key system on the market today!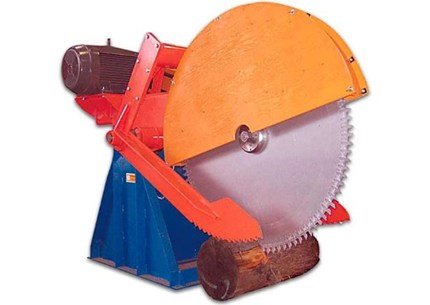 The L-M Heavy Duty Chop Saws are available in a variety of different styles. ?A uniquely designed Gravity Log Hold Down is incorporated to hold the log in place while it is being cut. This assures a safer and faster cutting cycle.
L-M Equipment Co Ltd Bump Rollcase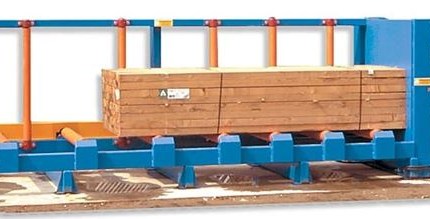 The L-M Bump Rollcase is an integral part of package cutting. Hydraulically powered bed rollers are driven to pound the package of lumber against a reinforced steel face, to flush up one end, and either eliminate or reduce end trims. The bump is fabricated as one complete unit, to make installation convenient on an existing concrete slab. Heavy construction and back up supports, ensure a square and flush operation. ? This bump is also available as double end, to break loose frozen or stubborn packages. ?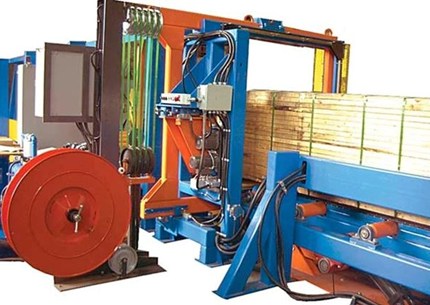 L-M Equipment offers a wide range of custom manufactured material handling systems. This new design incorporates a Bump Rollcase , Automatic Polyester Strapping System with Side Squeeze, Outfeed Rollcase Chain Transfer and Self Centering Dunnage Placement Device. ? This unique system can be used as a stand alone system for package preparation, or can be incorporated into an existing line. It is an economical system, capable of strapping dunnaged and non-dunnaged packages. This new system was designed to compliment our existing line of Package Cross Cut Systems.