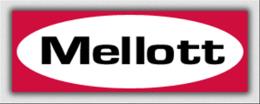 Mellott Manufacturing Co., Inc.
717-369-3125
---
Mellott HEAVY DUTY DROP BELT
Mellott HEAVY DUTY DROP BELT
The New Mellott Heavy Duty Drop Belt with Retracting Pins design was introduced in 2006. Improvements were made to critical wear areas to extend the overall life of our drop belts. Our goal, as it has been for over the 50 years we have been in business, is to provide quality and dependable equipment. Please visit our website for detailed specifications or feel free to get in touch with us. Contact: Carl Park 717-369-3125
Drop Belt crank mechanism for raising and lowering the belt is made of 1" thick flame cut arms with 3" cam followers and operate by dual "heavy steel" double cushioned air cylinders. Built with added strength where needed.
Bearings are QM Blue Brute double row spherical on all pivot points.
Pulleys are heavy duty with 3/8" wall thickness on both drive and take up end.
We use quality heavy PVC CBS 350 belting with a R2 rivet style lacer.
Sumitomo Cyclo Foot Mount Reducer with 5 HP Drive included standard on all drop belts.
Mellott Drop Belts are completely assembled, wired and tested at our facility.