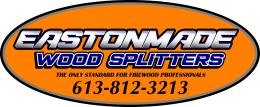 Eastonmade Wood Splitters
613-812-3213
---
Eastonmade SS524 Skid Steer
Eastonmade SS524 Skid Steer
The Eastonmade SS524 is the meanest skid steer splitter you're going to find in the industry. This is specifically designed for tree services and people that deal with oversized gnarly wood all of the time. These compliment any firewood operation as it takes a typical waste product that is almost unmanageable and moves and breaks them down for further processing.
Weight 1500LBS
Required Pump Pressure 2200PSI-3000PSI
Required Flow 13GPM-30GPM
This is a heavy splitter. We recommend a minimum of 60hp skid steer with an operating capacity of 2500lbs.