Tierney Gang Edgers For Sale
Viewing Page 1 of 1
2 Results Found
STANDARD LISTINGS TIERNEY 8 x 48 gang. Door on left facing infeed. GOOD CONDITION.  Press rolls split 24" for board side and 24" for gang side. Bottom feed rolls solid, no split. Includes: 9' infeed with 2 crowding chains; 10' outfeed wide belt; 200 HP motor and starter; 10 saw blades and spacers. NO EDGING COLLARS FOR MOVEMENTS. $20,000.

MACHINERY INSTALLATION CO., INC. (M.I.C.I.)

336-269-2284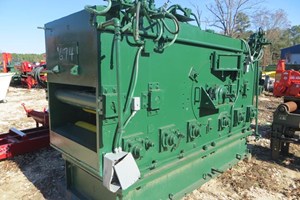 LPS Equipment & Acquisition Co.

731-986-4351