Mebor Band Mills (Wide) For Sale
Viewing Page 1 of 1
2 Results Found
STANDARD LISTINGS HORIZONTAL BAND MILL: Primary log breakdown. 52" cast iron wheels to saw 52" diameter logs. Double cut option with 7" saw blade. Many models & options. Optimized edgers, resaws w/run around, hydraulic debarkers, vertical twin & quad band saws w/ chipping heads, double arbor gangs, & board edgers.

MACHINERY INSTALLATION CO., INC. (M.I.C.I.)

336-269-2284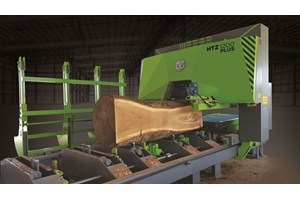 NEW MEBOR horizontal band saw Model HTZ 1200 PLUS (in stock) to saw up to 48" diameter x 21' long logs x 34' OAL x 26,000 lbs. Includes: 60 HP motor driving 48" cast steel wheels; 2 log turners; 4 hydraulic log clamps; 4 driven hydraulic rollers; 15 HP heavy duty hydraulic system; automatic off-bearing belt; automatic slab/board drag back; double cut; 6" or 7" blade; easy controllable, high end electronic setworks. IN STOCK AT SLOVENIAN FACTORY AND SUBJECT TO PRIOR SALE. SPECIAL PRICE DUE TO BUYER PUTTING MACHINE ON HOLD. CALL BUTCH AT 336-269-2284.

MACHINERY INSTALLATION CO., INC. (M.I.C.I.)

336-269-2284