Custom Built Wood Finishing For Sale
Viewing Page 1 of 1
4 Results Found
STANDARD LISTINGS Line is approx 95' long and 40' wide Spray booth is approx 30' x 15' Line is in excellent condition This line was installed approx 4-years ago and is no longer needed at the current facility. Will need to be dismantled and removed.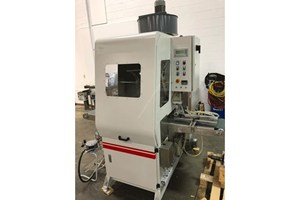 3-Gun Lenar Sprayer 12" Capacity Feed Speed: Up to 150 FPM (1) Reclaim Trough (3) Guns: Iwata with Graco double diaphram pump Thi is a demo model that is still under power for inspection. FEED THROUGH ROTARY STAIN WIPING MACHINEFeed through Rotary Stain Wiping and Buffing machine that was built on a variable speed Sorbini conveyor base.The machine is designed to be in a finish line after a Stain Application Roll Coater for the purpose of simulating Hand Wiping the stains or fillers down deeper into the grain.Specifications: --There are (4) 27" diameter fiber pads that are each powered by a variable speed motor. The pads are held to the disc by means of a Velcro type of connection. -- The variable speed feed belt is a vacuum hold down system powered by your external dust collection or a small blower can be installed near the machine and piped in through the 8" diameter duct. -- The entire framework that holds the rotating cylinders is lifted on one end by a pneumatic cylinder and hinged by heavy duty pillow block bearing on the other end to lift the assembly and provide easy access to change or clean the rubbing pads.NOTE: This is a very well built machine and with your choice of rubbing pads you can accomplish a variety of surface finish levels.

Dan Wolters

800-374-5009 ext:376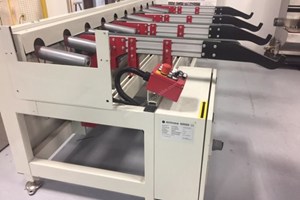 Workpiece length: 3'-9' Workpiece width: ½" - 8" Speeds: 30-150 FPM Number of drop down rolls: 10 Number of crossbelts : 4 Crossbelt spacing: 20" on center This machine is a demo unit and available for sale.