Cleereman Industries
715-674-2700

Cleereman Sales, Inc. has been building the highest quality sawmill machinery for more than 66 years. We specialize in carriages - Linear Positioning, Set Shaft & Tilt carriages. At Cleereman, we have a carriage to fit nearly every size sawmill operation.
Cleereman Industries LP 42 Carriage (Sawmill) For Sale
Viewing Page 1 of 1
2 Results Found
STANDARD LISTINGS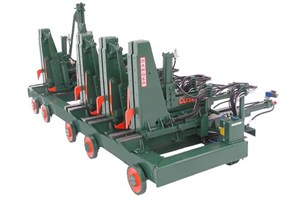 This carriage is AVAILABLE NOW! Customer's order changed, making this new carriage available with NO WAITING! CLEEREMAN MODEL LP-42 EXTRA HEAVY WEIGHT LINEAR CARRIAGE (Remanufactured Carriage with NEW Warranty) • 3 Headblock – right hand. • 42" Carriage opening. • 4" Bore dog cylinders. • 4" Bore in/out dog cylinders with ¼" cinch back. • 4 Sets of 16" wheels mounted on 3" axles. Axles and wheels made with heat-treated alloy steel. • Cleereman auto injection lubrication system • 30 HP regenerative hydraulic power • Dual cable equalizer brackets • 3 Brownsville turners. • 3 Cant push-offs. IMAGE PROVIDED IS A STOCK IMAGE AND NOT THE SPECIFIC MACHINE OFFERED.
Cleereman Industries

715-674-2700 CLEEREMAN 42" linear positioning hydraulic carriage. 42" opening, 4 headblock, 8" tubular frame, 14" wheels, 20 HP hydraulic power unit, complete with track and SILVATECH setworks. $ 75,000 OBO. FOB MILL SITE.

MACHINERY INSTALLATION CO., INC. (M.I.C.I.)

336-269-2284