Weiler Forestry Introduces B457 & B458 Track Feller Bunchers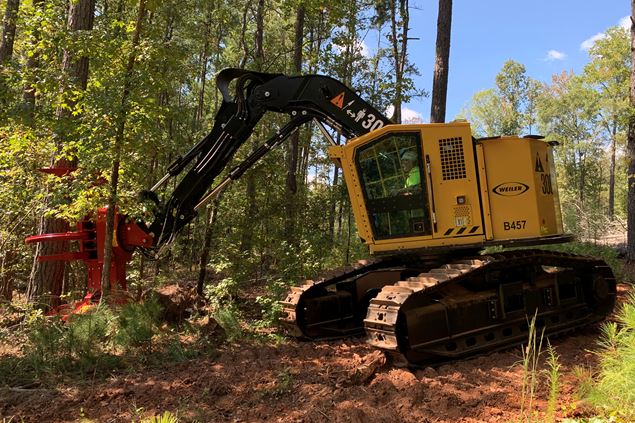 LaGrange, GA (Sept. 27, 2019) – Weiler Forestry announces the launch of two new reduced tail swing track feller buncher models, the B457 and B458. These productive new machine platforms feature excellent multi-function capability with dedicated pumps, a new cab that maximizes operator experience, field proven components, and excellent serviceability. The Weiler B457 and B458 track feller buncher models have the latest Cat® C9.3 engine that produces 298 hp (222 kw) and meets U.S. EPA Tier 4 Final emission standards. A Tier 3 engine option is also available.

The B457 is a non-leveling model best suited for plantation thinning, biomass harvesting, and medium-production select or clear-cut applications; the B458 is a leveling machine for steeper terrain and excels in select or clear-cut logging.

Powerful Performance

The B457 and B458 provide a leading combination of lift capacity, swing torque, and drawbar. Multi-function performance is achieved through dedicated pumps and optimized circuit configurations. The B458 has an extended track roller frame option that includes two additional bottom rollers for a total of eleven, enhancing overall machine stability in steep terrain. In addition, a standard or heavy counterweight option is available for a diversity of harvesting conditions. Unobstructed ground clearance enables unimpeded travel over stumps, rocks, and other debris.

Maximum Operator Experience

The spacious cab maximizes operator visibility by providing an open field of view to the work area and upwards through a large skylight. An optional 14 LED light package is available for improved productivity in night shift operations and an optional heated and cooled seat keeps operators comfortable all day long. The cab also features a front window emergency escape, a 7" (178 mm) intuitive color touchscreen monitor, multiple storage compartments, and numerous charging ports. Innovative machine functionality helps to reduce the frequency of foot pedal motions in certain applications, reducing operator fatigue at the end of the day.

Proven Durability and Reliability

The Weiler B457 and B458 are designed and built for the severest of harvesting applications. The forestry-duty cooling package is designed to provide reliable operation by keeping components cool in even the toughest environments. High torque rated final drives and Caterpillar field-proven engine, undercarriage, and swing drive components ensure overall machine reliability.

Easy to Access and Maintain

Excellent service access is provided by a gull-wing engine enclosure that provides maximum access to components, while the integrated counterweight walkway allows operators machine level access from the cab. Upper frame access ports allow for efficient debris clean out and component access.

Worldwide Dealer Support

Weiler Forestry customers are supported by the industry's largest network of Caterpillar dealers who will keep their machines running with parts availability, field services, state-of-the art diagnostic programs, and more. For more information, please visit www.weilerforestry.com.