Newly Patented Tracked Slasher Saw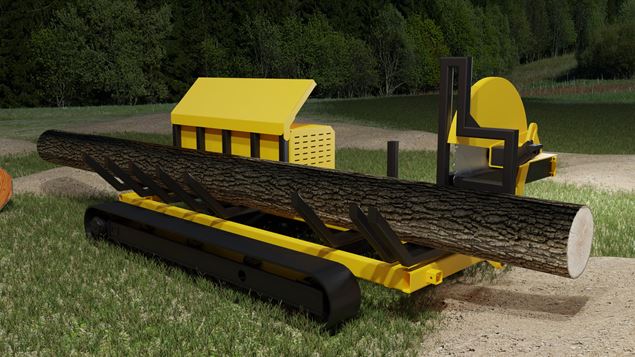 Spruce Creek Mechanical, LLC seeks forest industry manufacturing partner for the newly patented Tracked Slasher saw system that requires NO CORDS or HOSES!

The simple sounding idea of an independent slasher saw system that is NOT CONNECTED to the loader represents the next evolution of bucking up logs. The groundbreaking, patented Tracked Slasher, created by John Steciak a lifelong mechanic and logger from upstate New York, lets you "Cut the umbilical Cord" ® with a self-powered slasher mounted on a self-propelled tracked carrier similar to tracked chippers and grinders. The low and long undercarriage keeps the slasher close to the ground and stable. It can be turned and adjusted at a moment's notice to fit the ever-changing scene on a modern logging job. Tracked Slasher is operated with a wireless controller allowing ANY loader, of ANY size, and ANY type, from the largest track loader, knuckleboom log loader, wheel loader or excavator with a thumb, to cut up logs WITHOUT being connected to the loader.

The Tracked Slasher IMPROVES safety, versatility and mobility in a compact, self-contained unit that can be hauled on a standard gooseneck trailer. Full U.S. and Canadian patents and trademarks are in place, making this a huge opportunity for a manufacturing partner to manufacture and market this ground breaking machine throughout North America. Loggers interested in preproduction sales inquiries are also encouraged to visit www.trackedslasher.com or call Tom Johnson at 989-627-6258.