New Portable 3/4 Pitch Slasher Chain Sharpener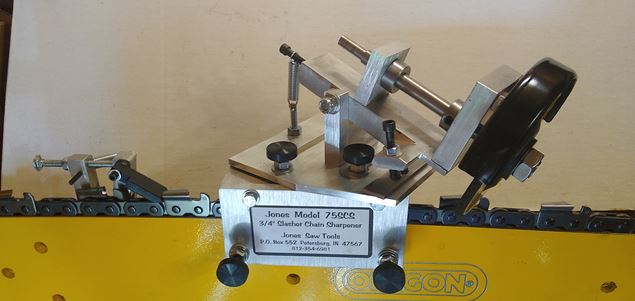 Jones Saw Tools introduces its new Model 75SCS Portable Slasher Chain Sharpener to their line of preferred saw sharpening tools.

Developed for use in logging, sawmill and firewood processing, this tool is designed to sharpen chains right on the machine and right at the job site. No more running back to the shop when you're down to your last chain. Eliminates excessive downtime along with wear and tear on machinery from dull chains.
The 75SCS Sharpener is a simple, easy to use tool powered by your own cordless or electric drill. Simply chuck your drill to the 3/8" shaft end and you're ready to go. Sealed ball bearing posts hold the ½" drive shaft that is mounted to a rugged, lightweight aluminum frame. Easy to mount – Easy to use and also sharpens 3/8 and .404 chain.

For more information on the new product and all of the quality tools from Jones Saw Tools, call Randy at 812-354-6981.