Hakki Pilke 38 Pro and 43 Pro Firewood Processors Have a NEW Half-Stroke Function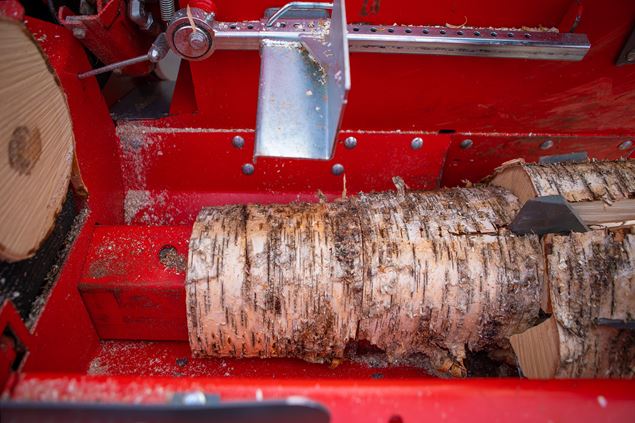 The Hakki Pilke 38 Pro and 43 Pro firewood processors now have the half-stroke function for making short firewood faster as a standard equipment. Take your efficiency to a whole new level and double the cycle speed with half-stroke. With this activated, the splitting returns already after half of the stroke, thus halving the cycle time. The half-stroke splitting can be easily controlled with a switch in the front panel. You will get up to double the splitting speed at the touch of a button. The function is adjustable between 32 and 50 cm firewood. The 12-way splitting blade with half-stoke is the winning solution for unparallel productivity.
---
The Hakki Pilke 43 Pro is advanced commercial grade firewood processor for professionals. The 43 Pro is internationally highly valued by among professional users. The productivity of the machine is unbeatable with the half-stroke and the delay-free HakkiSplit™ splitting mechanism. The HakkiCut™ cutting control always adds optimal cutting force and enables whole cutting operation with one joystick button. The hydraulic log clamp and log landing plates ensure uninterrupted material flow.
The Hakki Pilke 38 Pro has the easy push button controls and advanced cutting system to make it a top choice amongst producers. The Hakki Pilke 38 Pro brings unparalleled efficiency to firewood processing. Effortless and ergonomic HakkiCut™ cutting control enables sawing with a press of a joystick button. During cutting, the lowering speed of the saw bar is automatically adjusted according to the resistance, ensuring an efficient and fast process. The 38 Pro can split even the hardest wood in high quality firewood, with a splitting cycle of only 3 seconds.

Hakki Pilke North America
715-360-6292

Hakki Pilke has sold 30,000 units in over 35 countries making them the largest firewood processor manufacturer in the world. Hakki Pilke combines advanced technology and world class engineering to bring the user experience to the next level. Known for high reliability and rare downtime. Join the Winning Team setting the new standard in firewood processing! Find more at global.hakkipilke.com/na