Green Trees Matter. Healthy Forests = Healthy Future Theme guides 85th Annual Oregon Logging Confere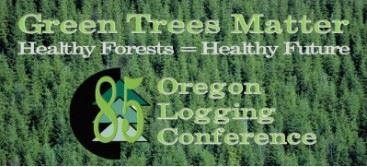 The 85th Annual Oregon Logging Conference boasted more registered attendees and exhibitors this year and did not disappoint all who attended. The inclement weather did cause cancellation of elementary school tours and prevented some of the students from attending the Future Forestry Workers Career Day but did not dampen the spirits of all those who came out to the Lane Event Center and Fairgrounds in Eugene, OR.
Overall, pre-registered attendance was up 18% and exhibitor participation was up 17% over last year. As the weather improved during the OLC, so did attendance, especially on the final day of the Conference, which is Family Day, and also open to the public with no admission charge.
85th Annual Oregon Logging Conference President Craig Olson said, "Our theme 'Green Trees Matter. Healthy Forests = Healthy Future' reflected the importance of our industry. Our keynote speaker Travis Joseph and the many panels and seminars all touched on topics impacting our industry, the importance of forests, and the products that are provided."
Conference Manager Rikki Wellman said registration was up this year and there were more displays including several first-time exhibitors. "The icy weather caused only minor challenges for those planning to attend the 85th OLC," and she added, "many still came out to review the latest technology in logging equipment".
2023 Keynote speaker – Travis Joseph
Keynote speaker Travis Joseph said he and his organization need help telling the truth about logging and the wood products industry.
He called it a big lie, the concept of logger versus environmentalist, with loggers destroying the forest and only it for the money and environmentalists protecting the forests and saving the planet. Not only a lie, Joseph said, but a perception with "dangerous implications on communities, forests, the environment, and the future."
"You are the people who provide all the products, materials, and services we all depend on every day of our lives," Joseph told the gathering, and added, "We have to stop letting ourselves be bullied about environmentalism by a bunch of hypocrites and celebrities."
He asked everyone in the room to get involved. "We're in this together," Joseph said, "no one can be sitting on the sidelines right now. Let's keep fighting, let's keep working together, let's not give up, we can change this," he said.
Future Forestry Workers Career Day
Nearly 300 high school students from 14 Oregon schools attended the 5th Annual Future Forestry Workers Career Day. A higher number of students and schools had signed up to attend but were forced to cancel due to bad weather.
The students interacted with industry professionals and learned about job opportunities and careers in sawmills, reforestation, truck driving, equipment operation, welding, and diesel mechanics.
Students also had an opportunity to use virtual timber harvesting technology, provided by the Oregon State University Forestry Department.
February 23, 2024 is the date planned for the 6th Annual Future Forestry Workers Career Day, to take place at the livestock arena on the Lane County Fairgrounds in Eugene.
A high school logging and forestry skills competition is included as part of the Future Forestry Workers Career Day which included students from five high school forestry clubs compete in activities including cable splicing, choker setting, crosscut and single buck sawing, compass and pacing, tool identification, log scaling, and axe throwing. This skills competition has been part of the Oregon Logging Conference for more than 25 years.
Philomath High School took 1st place, 2nd place was Sweet home High School, 3rd place was La Pine High School, and 4th place was Scio High School.
Desserts for Dreams Luncheon Raises Money for Wildland Firefighter Foundation
More than $15,000 was raised at this event for the Wildland Firefighter Foundation, which provides support for families who have lost loved ones fighting wildland fires.
The Foundation was established after the loss of 14 firefighters in 1994 at Storm King Mountain in the South Canyon Fire in Colorado. Founder Vicki Minor and several family members of those fallen firefighters attended the luncheon. Minor told the gathering "These families helped create this Foundation, and it has helped these families learn how to live again."
Oregon Logging Conference Foundation Auction
$27,000 was raised during the Thursday and Friday auction at the Oregon Logging Conference. This money will be deposited in the Oregon Logging Conference Foundation scholarship program. OLCF expressed its appreciation to all donors, winning bidders, auctioneer Jaime Yraguen of Basco Logging, and Will Garrett and other volunteers from Radiator Supply House.
Seminars and Panel Discussions
Topics of current interest were discussed at the 85th Annual Oregon Logging Conference, while many of those attending earned Professional Logger credits to stay certified and up to date on several issues. Topics addressed included:
Engaging the Next Generation Workforce
Succession Planning for Logging Companies
The Connected Forest and New Technology Around the World
Your voice, Your Vote Counts and speakers Christine Drazan and Oregon Representative Shelly Boshart Davis
Electrification of Equipment
Business Advice for Today's Logging Companies
Oregon and Washington Forest Practices Acts
"The Oregon Logging Conference was packed with unique opportunities for forestry and natural resource professionals to network and learn more about their trades," said OLC Manager Wellman.
Log Loader Competition
Just like last year and previous years, the winners of the Oregon Logging Conference Log Loader Competition are familiar names.
First place was Bryan Chipps of Green Diamond Resource Company in Humboldt County, CA, with a time of 4:05:00. Chipps was the third-place winner in 2022. Second place went the Zane Bryant of Bryant Logging in Beaver Creek, OR, with a time of 4:15:37. Bryant was last year's first place winner. Third place this year was Ross Cribbs of Black Rock Timber, with a time of 4:48:15.
This popular outdoor event tests the skills of log loader operators, as they demonstrate speed, skill, and efficiency. Operating a Link-Belt log loader, contestants have seven minutes to stack log blocks end-to-end, matching numbers or colors on predetermined marks on the ground.
Event sponsors are Triad Machinery and Link-Belt, wood chunks were provided by Cascade Timber Consulting and Burke Logging.
Guess the Net Scale – 2 Winners This Year
Along with the traditional guess the net scale load of logs, this year there was a load of chip and saw logs testing guesser's scaling abilities. The two winners are:
Jay Messerle of Messerle & Sons Logging in Coos Bay was the winner with his guess of 2,920 feet for the load of chip and saw logs. The actual scale was 2,910 feet. Thank you to Jacob Steensen and Southport Lumber, Sierra Pacific Industries, and Terry and Louis Mann, L & L Inc.
Mike Edwards of the road building engineering department at Lone Rock Timber has the closest guess for the net scale of the chip and saw logs. The second load of logs had an actual scale of 8,040 feet and Edwards guess was 8,050 feet. Thank you to Derek Lee and Swanson Brothers and Leonard Maser Trucking.
Messerle and Edwards each received a $250 Cabela's gift card.
Family Day
There was a good turnout on the final day of OLC, with many taking advantage of Family Day activities and enjoying outdoor and indoor displays, including state-of-the-art logging, construction, and trucking machinery. The final day of the Oregon Logging Conference, Family Day activities included bird house building, live wildlife, face painting and educational displays.
Oregon Women in Timber Dinner/Auction
The Talk About Trees dinner/auction was a huge success with sellout crowd of 480 people in attendance. The dinner/auction's gross proceeds of over $150,000 will help support OWIT's Talk About Trees forest education program, which is offered free to pre-Kindergarten through 8th grade students.
86th Annual Oregon Logging Conference
The dates are set for the 86th Annual Oregon Logging Conference. Plan to attend the OLC February 22 - 24, 2024 at the Lane Event Center and Fairgrounds in Eugene, OR.
For more information, contact Rikki Wellman, OLC Manager, (541) 954-2477 or Mary Bullwinkel, Media/Communications Coordinator – (707) 601-6533.