Forest Products EXPO Brings Global Sawmill Industry Together in Nashville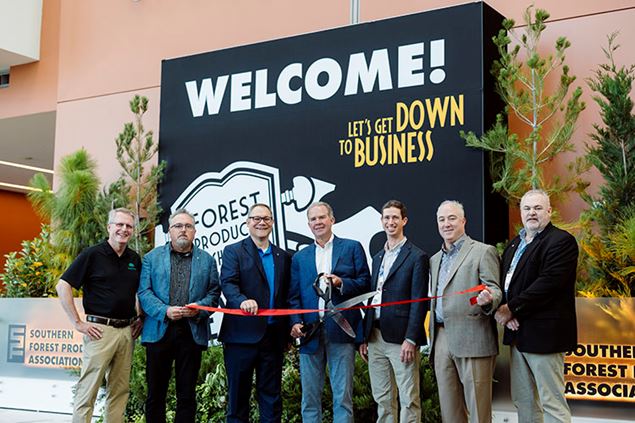 METAIRIE, LA – Connecting. Exploring. Discovering. That was the agenda for the 37th Forest Products Machinery & Equipment EXPO from August 23-25, 2023, at the Music City Center in Nashville, and early feedback shows exhibitors and attendees alike were able to successfully check off all three items on that agenda.
After six shows in Atlanta dating back to 2011, the Southern Forest Products Association (SFPA), which hosts the biennial event, moved the show with exhibitors and attendees applauding the new host city and venue.
EXPO 2023 exhibit space actually sold out three different times before SFPA had to close booth sales because all available space was claimed. The final floorplan topped out at 217 exhibiting companies – a record number of exhibitors since 2007 – spread over 58,337 square feet of machinery, innovation, and solutions to meet with more than 1,200 attendees.
"The move to Nashville exceeded all expectations," said Eric Gee, SFPA's executive director. "It was great to see so many members of the forest products industry in attendance to be a part of this historic moment. I'm extremely proud of the exhibiting companies that helped transform the exhibit hall into a first-rate networking space."
Since 1950, Forest Products EXPO has provided a place for both hardwood and softwood sawmillers to gather, celebrate new technology, network, and learn about the industry's latest machinery and equipment.
The three-day tradeshow provided attendees with solutions for nearly every stage of manufacturing. From raw material handling to crane operations; metal detection and scanning technologies; log optimization, drying, grading, sorting, packaging, and distribution.
Onsite Activities
SFPA announced the 2022 John Edgar Rhodes Sawmill Safety Excellence Awards during the Sawmill & Safety Awards Breakfast on Thursday, August 24. This is the second year in a row there are seven mills receiving 2022 Sawmill Safety Awards with zero incidents among them. Click here to learn more about the 2022 recipients.
New this year included a welcome reception and The Lumber Yard, which expanded EXPO's networking center with an outdoor-live feel that included wood picnic tables and activities.
Attendees also had the option to attend Productivity & Efficiency: A Conference by Timber Processing co-located at the Forest Products EXPO on Thursday, August 24.
"With nearly one-third of U.S. Forested Land, Southern States produce more than $100 billion in forest products," said Alaina Hanson CPA, SFPA's director of administration. "Nashville was the perfect choice because it's within easy driving distance for both Southern Pine sawmills and hardwood sawmills. The surrounding areas, including the Eastern U.S. hardwood community, represent 42% of all lumber manufactured in the United States."
Stay tuned to SFPAexpo.com for future host city and dates to be announced in the coming weeks. Booth sales for the 38th Forest Products Machinery & Equipment EXPO are scheduled to open in June 2024, while registration is scheduled to open in March 2025.
EXPO 2023 By the Numbers
These are preliminary numbers. SFPA will announce final numbers in the coming weeks after a thorough audit.
Attendees

1,342 registered
1,228 confirmed
91.5% attendance rate

Exhibitors

217 exhibiting companies
1,017 exhibitor personnel
58,337 square feet of displays

International Component

319 international attendees
21 countries represented

Attendee Demographics (pre-audit)

Key Category

71% - Manufacturing/Processing
15% - Non-Exhibiting: Equipment Manufacturing/Dealer/Distributor
13% - Forestry/Logging/Harvesting
1% - Academia/Student

Job Title

32% - Company Officer/Owner
21% - Marketing/Sales
15% - Engineering/Operations
10% - General manager
7% - Purchasing/Maintenance
6% - Production manager
5% - Superintendent/Foreman
2% - Research and development
2% - Student
1% - Professor
1% - Safety team leader