Family Friends and Forestry 2.0 Theme guides 84th Annual Oregon Logging Conference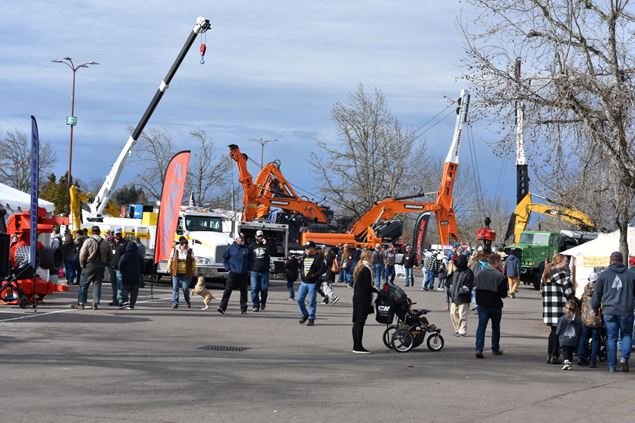 In traditional fashion, the 84th Annual Oregon Logging Conference was held at the Lane Event Center and Fairgrounds in Eugene, February 24 – 26, 2022.
After celebrating the OLC in a scaled down version in 2021, many positive comments were made this year about being able to gather in-person.
"After the last two years, the best thing about this year is getting back together," 2021/2022 OLC President Scott Melcher, of Melcher Logging in Sweet Home said. "I think that's one of the strengths, the connectivity and the bonds that we have," he added. "We might be competing against each other one day, and the next we're sitting down talking and sharing ideas."
Conference Manager Rikki Wellman said this year, there was more equipment on display outdoors compared to previous years. And while paid registration was slightly down this year, there was no dip in attendance with many industry professionals and members of the public participating in the OLC
"The last couple of years have been a challenge for all of us," Conference Manager Rikki Wellman said. "Being together in 2022 helped restore the traditions of the OLC," she added, "seeing our friends faces again and enjoying the camaraderie."
2022 Keynote speaker – Blake Manley
Keynote speaker Blake Manley shared his incite and success in engaging and encouraging young men and women to consider careers in the logging and forestry industries. Manly is a Natural Resources teacher at Sweet Home High School, creator of the Manley Jobs career video YouTube series, Chair of the Oregon Natural Resources Teachers Association, and a logger.
Manley was also the speaker at the annual Desserts for Dreams luncheon, where he suggested ways to continue reaching out to young women and men with information about the logging and other natural resource industries. The charity selected by Oregon Logging Conference First Lady Wendi Melcher, to receive proceeds from the event was the Sweet Home High School Forestry Club, which will receive more than $10,000.
Seminars and Panel Discussions
Topics of current interest were discussed at the 84th Annual Oregon Logging Conference, while many of those attending earned Professional Logger credits to stay certified and up to date on several issues. Topics addressed included:
The Private Forest Accord
A changing labor force (Better Ideas/New Technology in Logging)
Reducing worker stress and fatigue from day-to-day equipment operation
Your voice, your vote counts
Log damage caused by modern processing equipment
Oregon and Washington Forest Practices Act seminars
"The Oregon Logging Conference is packed with unique opportunities for forestry and natural resource professionals to network and learn more about their trades," said Rikki Wellman, OLC Manager.
Oregon Logging Conference Foundation Auction
$28,000 was raised during the Thursday and Friday auction at the Oregon Logging Conference. This money will be used for scholarships and other educational endeavors, including the above-mentioned Future Forestry Workers Career Day.
Log Loader Competition
You'll recognize the winner's names in this popular competition.
First place was Zane Bryant of Bryant Logging in Beaver Creek, OR with a time of 2:57:09. Second place was Justin Jackola of Rice Logging in Sweet Home, OR with a time 3:34:16 and third place was Bryan Chipps of Green Diamond Resource Company in Korbel, CA with a time of 3:42:17. This popular outdoor event tests the skills of log loader operators, as they demonstrate speed, skill, and efficiency. Operating a Link-Belt log loader, contestants have seven minutes to stack log blocks end-to-end, matching numbers or colors on predetermined marks on the ground.
85th Annual Oregon Logging Conference
The dates are set for the 85th Annual Oregon Logging Conference. Plan to attend the OLC February 23 - 25, 2023 at the Lane Event Center and Fairgrounds in Eugene, OR.
For more information, contact Rikki Wellman, OLC Manager, (541) 954-2477 or Mary Bullwinkel, Media/Communications Coordinator – (707) 601-6533.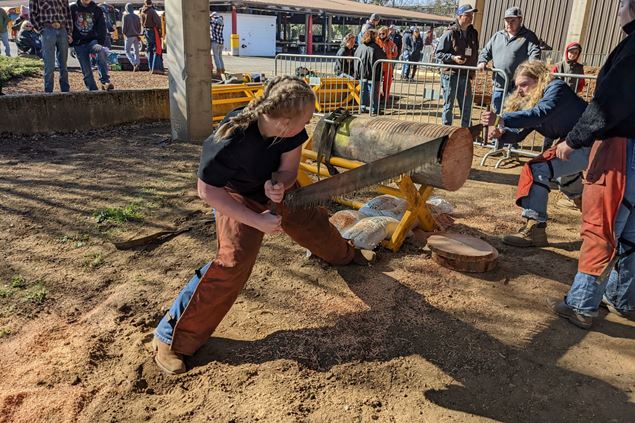 High School Skills Competition