Cambium Carbon Launches Traece, a Lumber Tracking System?
By:
Cambium Carbon
|
Marisa Repka |
Published 09/08/2021 |
240-678-4761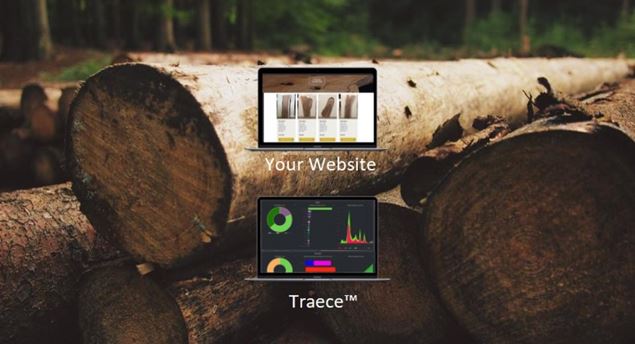 Washington, DC (September 1, 2021) Cambium Carbon announced the acquisition of Traece, a software platform allowing millers to easily and confidently track, sell, and manage their inventory.
"Traece reimagines what inventory tracking is. Built specifically for sawyers and millers, our platform is poised to support and grow alongside these partner businesses. We believe a thriving circular economy is built on scalable material management, and we think Traece offers users a simple pathway to scaling their urban wood salvage efforts," said Ben Christensen, co-founder and CEO of Cambium Carbon.
TRAECE EMPOWERS MILLERS
Established in 2016 as Lumber Tracker, Traece has been tested and used in the day-to-day operations of a national network of customers. Niles Krech, owner and operator of Maine Urban Timber uses the software across his business. Traece enables Krech to gather unique insights into his operations, better understand the value and quantity of his inventory, and ultimately reach more customers.
"Traece keeps track of everything I was cataloging manually but does a better job and makes it accessible to me almost anywhere… It has streamlined our process and made it easier for us to track our logs and update their status along the processing journey"
Niles Krech
TRAECE FEATURES
Traece allows users to track slabs and lumber from a source tree through milling and drying. It supports a real-time inventory online sales feature through simple website integration. Additional features include:
Search & export specific product information and photos
Add inventory on-the-fly from your phone, tablet, or desktop
Print QR codes for easy tagging, scanning, and location-based management
Access insightful dashboards and reports
In the coming months, the new version of Traece will continue to unveil additional features driven by customer feedback and collaboration. Cambium Carbon works with Traece users to help put their wood to its best use, and to educate consumers about the powerful impacts of re-use. To learn more about Traece and to request a demo, visit www.cambiumcarbon.com/traece.
ABOUT CAMBIUM CARBON
Cambium Carbon is a Public Benefit Corporation on a mission to reforest America by enabling circular economies. By reducing waste and increasing green infrastructure in cities, the organization is pioneering a new model for social and environmental impact.
Cambium Carbon and Traece are registered trademarks in the United States.
The names of actual companies and products mentioned herein may be the trademarks of their respective owners.
For more information:

Joe McDonald
(202) 743-1712
[email protected]
For more information on Traece:
www.cambiumcarbon.com/traece