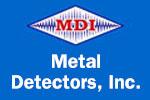 Metal Detectors, Inc.
541-345-7454
---
Metal Detectors Inc XR-3000
Metal Detectors Inc XR-3000
The XR-3000 joins our family of digitally controlled metal detectors with the new XR-8F Digital Function Block and entirely new internal search coil design that utilizes our groundbreaking Diamond Construction Process. The XR-8F represents a new series of MDI Digital Technology and is guaranteed to surpass the performance of all previous Function Blocks while providing the consistent reliability of digital technology. The advanced filtering provided by the Function Block in combination with our new coil design provides near immunity to CB radio and static interference.
Economical Protection
Designed to Retrofit
Digitally Controlled
Diamond Construction Process