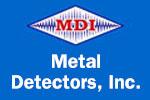 Metal Detectors, Inc.
541-345-7454
---
Metal Detectors Inc Probe 2100
Metal Detectors Inc Probe 2100
Simplicity best describes the Probe 2100. Before engineering the Probe 2100, we gathered information and suggestions from individuals in the forest products industry in order to focus on what is most important to you - giving you an easy to use, rugged, and durable handheld metal detector. You will find no knobs, dials, or switches on this device because it requires absolutely no calibration or adjustment - just turn it on and go!
Pre-set for maximum sensitivity with adjustable sensitivity control
Bright L.E.D. display indicates signal strength and battery level
Metal case provides durability, yet unit weighs only 5 pounds
This highly professional and rugged industrial metal detector is factory calibrated and will detect an 8d nail buried 15" into any type of log.
Ni-cad batteries, charger, and headphones included
12-hour battery life per charge
3-piece S-style collapsible rod