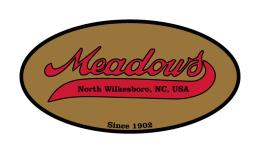 Meadows Mills, Inc.
800-626-2282
---
Meadows Mills Top Saw
Meadows Mills Top Saw
Meadows Top Saws are available with a 30 HP electric motor drive or mandrel drive. The Top Saws use a 30" F Pattern Saw. The mandrel for all Top Saws is 2 3/16" diameter turned ground and polished with 5 " saw collars, and employ two Dodge S2000 4-bolt bearings. All Top Saws include guards for the drive belts and the saw. Unless otherwise requested Top Saws will be set to run with a 56" head saw.
Heavy Duty Construction
30 HP Electric Motor
30" F Pattern Inserted Tooth Saw
2 3/16" Mandrel with 5" saw collars
All Gaurds and Belts Included